Microsoft is sinking a self-contained, undersea autonomous data center the size of a shipping container off the Scottish coast, part of a project to deliver cloud service with the latency required for emerging applications. The experimental prototype is "processing workloads on the seafloor near Scotland's Orkney Islands," Microsoft said in a statement this week.
It's part of Project Natick, a multiyear plan by Microsoft Corp. (Nasdaq: MSFT) to "investigate manufacturing and operating environmentally sustainable, prepackaged datacenter units that can ordered to size, rapidly deployed, and left to operate lights out on the seafloor for years," the company says.
Project Natick is designed to "accommodate exponential growth in demand for cloud computing infrastructure near population centers," Microsoft says.
More than half of the world's population lives within 120 miles of the coast, Microsoft notes. "By putting datacenters in bodies of water near coastal cities, data would have a short distance to travel to reach coastal communities, leading to fast and smooth web surfing, video streaming and game playing, as well as authentic experiences for AI-driven technologies," Microsoft says.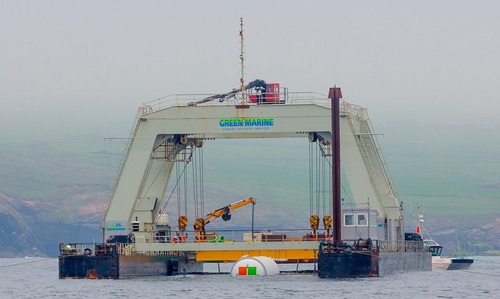 ---
Now entering its fifth year, the 2020 Vision Executive Summit is an exclusive meeting of global CSP executives focused on navigating the disruptive forces at work in telecom today. Join us in Lisbon on December 4-6 to meet with fellow experts as we define the future of next-gen communications and how to make it profitable.
---
Project Natick is an extreme example of edge computing -- putting compute near the network edge to accommodate applications requiring low latency and fast performance, particularly Internet of Things applications. (See Open Source Zeroes In on the Edge and Verizon Takes a Big Step Towards a Smarter, Simpler Edge.)
Underwater real estate is proving to be prime territory for locating network resources. The aptly named Crosslake Fibre is looking to feed bandwidth demand by deploying subsea cables crossing lakes rather than the traditional oceans. (See Fiber Diversity Drives Crosslake Underwater.)
For the Microsoft project, the 40-foot-long submersible data center contains 12 racks with 864 servers and associated cooling infrastructure. It was assembled and tested in France, then shipped on flatbed truck to Scotland, where it was attached to a ballast-filled triangular base for deployment on the seabed, lowered 117 feet to the rock slab seafloor.
An initial phase proof-of-concept vessel launched in 2016 operated 105 days. In the current iteration, Microsoft is looking at unattended operations for up to five years.
"Phase 1 of Project Natick showed the underwater data center concept is feasible; Phase 2 is focused on researching whether the concept is logistically, environmentally and economically practical," Microsoft says.
And Project Natick is just part of a strategic direction by Microsoft, to pursue "what CEO Satya Nadella has called 'relevant moonshots' with the potential to transform the core of Microsoft's business and the computer technology industry," Microsoft says.
Related posts:
— Mitch Wagner




Executive Editor, Light Reading