AT&T Boosts Akraino With Code, Summit

Comment (0)
Developers for the new Akraino Edge Stack open source project are hard at work today and tomorrow at a developers' summit hosted by AT&T in New Jersey, on the heels of that operator's release of seed code Wednesday for a key blueprint for telco-based edge computing.
Akraino Edge Stack as a project within the Linux Foundation formally moved into execution earlier this week, solidifying the governing structure and scope of the project and launching technical committee work as well, according to Arpit Joshipura, general manager, Networking and Orchestration for the foundation. While initial membership includes AT&T Inc. (NYSE: T) and 12 vendors, he says other network operators are engaged in the technical work for the project, which is creating an open source software stack to support edge clouds. (See Akraino Edge Stack Goes Into Execution and AT&T Sharpens Edge With New Open Source Effort, Test Lab Launch.)
Arm, Dell EMC, Ericsson, Huawei, Intel Corporation, inwinSTACK, Juniper Networks, Nokia, Qualcomm, Radisys, Red Hat and Wind River are the other members.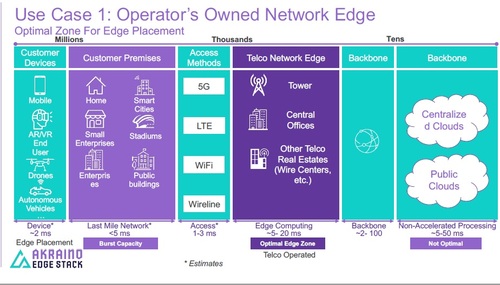 "The scope of Akraino is around two macro level use-cases, the operator's own edge -- and that edge is on websites with physical access, so at the customer premise, where latencies less than five milliseconds are important -- and at the traditional edge, which is really base stations and central offices and things like that where up to 20 milliseconds of latency is tolerated," Joshipura says in an interview.
The Akraino community is developing the middleware, software development kits and applications programming interfaces, as well as blueprints to address multiple use cases for each of the macro levels, he adds. One such blueprint is for a Central Office-based, telco-hosted edge compute stack based on OpenStack, and that's the blueprint for which AT&T released seed code on Wednesday, he adds.
"By [today], it will be available to everybody to download and use, and that's good progress," Joshipura says. "We've taken the summer to make sure that code transition is smooth. The second blueprint is the same concept that moves a little bit toward the remote sites. It's a much lighter stack. And then there is the non-telco or non-telecom blueprint that could be with disaggregated hardware or really lightweight, low-latency stacks."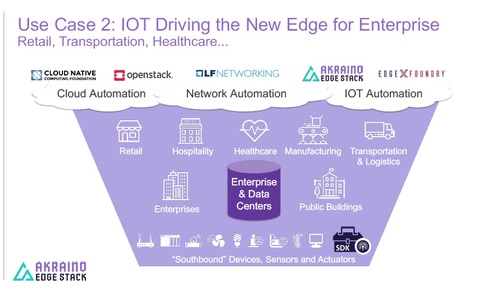 The Internet of Things at an industrial scale is a primary driver for the enterprise edge, he adds, with its more diverse settings. Akraino's scope includes the edge middleware, SDKs, APIs and application/virtual network function ecosystem for the telco-hosted edge and remote edge, and for enterprise/OTT/Industrial IoT edge use cases as well.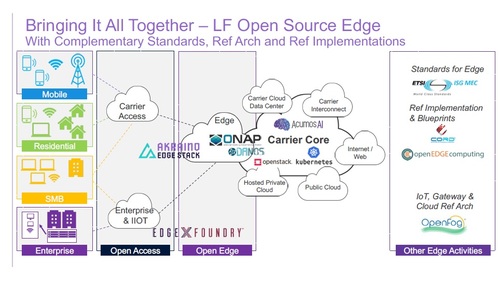 In addition to other service providers that are already active, Akraino is engaged with other organizations both inside LF and outside, including the EdgeX Foundry, the CORD project, ETSI's Multi-Access Edge Compute (MEC), OpenEdge Computing, OpenFOG and the new Edge Glossary. The latter is designed to get everyone engaged at the edge to use the same lingo. (See New Effort Tries to Curb Edge Chaos.)
"Service providers are already participating in the technical committees, because they are open to anyone, you don't have to join [the project]," Joshipura said. "Then there's a lot of what I would call enterprise and IIoT companies participating. If you look at the developer summit agenda, we have a whole set of what I'd call adjacent communities and projects participating. We're working to see how to collaborate."
---
Deep dive into real-world issues and virtualization deployment challenges with industry leaders. Join Light Reading at the NFV & Carrier SDN event in Denver, September 24-26. Register now for this exclusive opportunity to learn from and network with industry experts – communications service providers get in free!
---
A timeline for the project will be settled this week as well, but Joshipura expects Akraino's first release to be out before year's end.
— Carol Wilson, Editor-at-Large, Light Reading