Another CDN Company Jumps Into Edge Computing Market
Add CDNetworks to the list of content distribution networks seeking an edge in the computing market.
CDNetworks has announced its new Edge Computing Platform Service (ECP), which the company said leverages its 1,500 global computing locations, supporting latency of less than 50 milliseconds and reducing customers' operating costs by up to 40%.
The company added that the service is a container orchestration system built on Kubernetes and Docker for developers to write container-based applications.
"CDNetworks Edge Computing Platform dramatically reduced lag time which resulted in an exceptional online gaming multiplayer user experience," Mathieu Duperre, CEO and founder Edgegap, said in a release. Edgegap is a Canadian startup focusing on edge and cloud-native computing for online multiplayer gaming.
With the announcement, CDNetworks becomes the latest CDN to cash in on the momentum around edge computing. Fellow CDNs including Akamai and Limelight have signaled their own efforts to sell edge computing services, while Ericsson continues to pivot its former CDN strategy into an edge computing play. Limelight even boasts of a partnership with an online gaming startup called Network Next, just as CDNetworks is doing with Edgegap.
Interest in edge computing among CDN providers and others comes as no surprise. A wide range of analysts believe that edge computing will ultimately reshape the way the Internet works by moving most processing and cloud functions from a few hundred massive data centers around the world to thousands or even millions of smaller, more distributed computing facilities. That kind of a design could dramatically speed up users' access to information by positioning Internet customers physically closer to the computing resources that handle their requests. It could also significantly reduce the costs of data transport for enterprises and others.
CDNs already play in an adjacent area by storing content like video in data centers that are physically close to those who wish to view such content, thus speeding up video delivery.
Indeed, Chetan Sharma Consulting estimated that the overall edge computing sector could grow into a $4.1 trillion market worldwide by 2030. "The initial growth will come from edge serving existing use cases and will gradually be accelerated by the new use cases as the deployment becomes more widespread and developers learn to take advantage of the edge Internet architecture for applications across industry domains in all major markets," the firm wrote in its new report on the topic.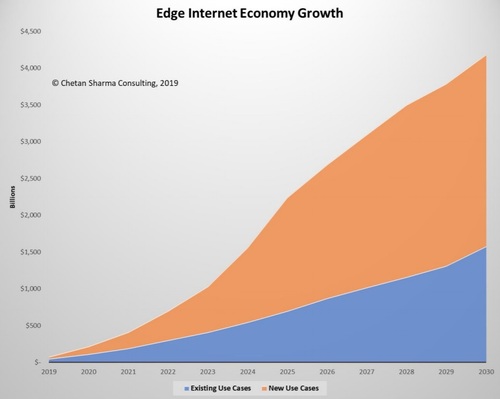 Not surprisingly, telecom network operators are hoping to translate their networking expertise into edge computing. Already CenturyLink promised to invest "several hundred million" dollars into an edge computing offering the company said would be able to provide 5 ms of latency to 98% of the enterprises in the US.
But in 5G, specifically, edge computing is viewed as essential to providing the low latency that could power applications ranging from virtual reality to autonomous vehicles. Moreover, US wireless network operators have a commanding position in edge computing because they currently provide access to their networks through a handful of Internet connection points. That design positions operators as unavoidable in any edge computing service that runs over 5G.
Some mobile operators have made some tentative steps into edge computing. Verizon, for example, has promised to launch a mobile edge computing product later this year. AT&T, meantime, has signed agreements with computing giants like Microsoft and Dell that have edge computing components.
— Mike Dano, Editorial Director, 5G & Mobile Strategies, Light Reading | @mikeddano
EDUCATIONAL RESOURCES


PARTNER PERSPECTIVES
- content from our sponsors