Comcast-Made Signal Meter Detects Signal Leak on Expo Floor
Atlanta -- SCTE Cable-Tec Expo -- While it's well known that Comcast has taken ownership of the designs and software powering its expanding lineup of residential set-tops and gateways, I was surprised to learn here this week that the cable operator has made some similar moves with the portable signal level meters (SLMs) that its technicians are using in the field.
At the RDK booth, Comcast Corp. (Nasdaq: CMCSA, CMCSK) was showing off two such devices -- the XM1, a version with a DOCSIS 3.0 modem inside, and the XM2, a more powerful, ruggedized iteration that is equipped with a DOCSIS 3.1 modem and has six hours of battery life when the device is running full tilt.
Both models run RDK-B, the broadband-flavored version of the Reference Design Kit, the open source, integrated software stack for set-tops and gateways that's being managed by RDK Management LLC , the Comcast-Liberty Global Inc. (Nasdaq: LBTY)-Charter Communications Inc. joint venture. (See Open Source Opening New Doors for RDK.)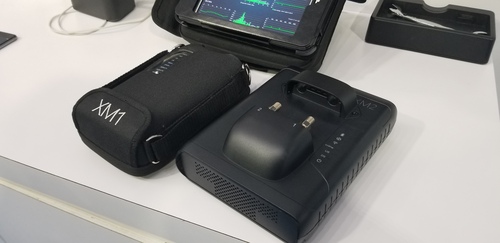 We're told that the XM1 has been in use by Comcast's techs for about a year, and that the newer XM2 is in the development cycle and close to completion. Comcast develops the APIs for the meters and has tapped Hitron Technologies Inc. to help with the RDK-based firmware and the device hardware.
Despite the nuances between the SLM models, they both collect network data and upload the info to Comcast's managed cloud for analysis. Of special note, the handling of that customer data (billing info, for instance) can be a tricky thing to work out when MSOs are working with third-party test device makers, but that the issue is obviated when the cable operator has builds and owns the platform.
And I'd be remiss in not pointing out that there are some obvious market competition implications here. I can imagine that other SLM vendors aren't overly enthused to hear about the possibility of a somewhat new competitive network testing product that centers on an MSO-made SLM -- a very common field tool. I hear that some suppliers in that market made some special visits to the demo at the RDK booth.
Those products got to show off their handiwork in more ways than one at Cable-Tec Expo. Earlier in the week, during a late-afternoon demo of the XM2's in-channel frequency response capabilities, the device noticed that two upstream channels were impaired -- "just toast," we're told.
The first thought was the impairment alert was due to a demo glitch, but the XM2, using simple data analysis and interpretation, discovered that it was a problem with the connection and was able to pinpoint where the issue was occurring.
The likely culprit? A loose fitting somewhere along the data path that caused the connection to crash when the wobbly fitting got kicked or bumped.
— Jeff Baumgartner, Senior Editor, Light Reading