Spirent CEO Eric Hutchinson: Out of the Labs, Into the Boardroom

9/14/2018

Comment (0)

Eric Hutchinson is a long-time Spirent executive who worked his way up through the financial ranks to be chief financial officer before assuming the CEO position in 2013. This summer, as the company announced its first half financials, he announced a major new initiative for the long-time test and measurement and service assurance company that, if successful, could position Spirent in a significantly more strategic way. (See Spirent Making Big New Promises.)
The new effort is already paying off in the emerging 5G market, says the CEO, where Spirent has been active with some of the early movers: For example, it is engaging with China Mobile in its extensive 5G rollout.
Hutchinson spoke with Light Reading about the major capex savings Spirent says it's helping to deliver to its customers, as well as faster service deployment with greater assurance of quality delivered.
In this first of a two-part CxO interview, Hutchison spells out the goals of the new Spirent "Promise. Assured" initiatives and the company's efforts to make 5G rollouts more cost-effective.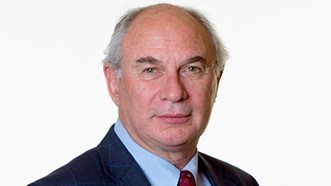 Carol Wilson: This summer you launched a new strategic initiative, called "Promise. Assured." Why did you do this?
Eric Hutchinson : It's a strategic direction, an evolution of Spirent's existing place in the market and the way that we offer our expertise to the market. We've got a long history of developing test and measurement solutions, of service assurance solutions in the networks but really what we're looking to get here is some real recognition and understanding of the bigger role we can play. There are critical issues that are facing our customers as they're rolling out virtual technologies, 5G wireless, and as they are facing increased challenges from cyber security attacks and [they] need to assure those services.
We're now aiming at how we can become a trusted partner and adviser to our customers, to help them make critical investment decisions about how they implement new technologies and give them a way to assure the quality of service and deployment of those technologies, whether that's in a virtual network, in a 5G wireless network or [as] new services are being turned up. We can help them make those decisions in an optimal way, which really enables them to deliver on the promises they're making to their customers. So we're really about assuring that our customers meet their commitment to their end customers.
CW: When you say become a trusted advisor and help them make critical investments, what changes in terms of your relationship? And are you involved in a different phase of the process, or in a different way in the process, or both?
EH: So we're now talking to chief technology officers, CEOs, CIOs, chief security officers. We're really looking at the development of their business and ultimately their business efficiency and delivery of revenue realization, as well as the ability to drive down their cost of operation through automation. We're moving outside of our traditional zone of operation, which has been with the technical directors in the development laboratories. It's all about pushing the boundaries on the technology development. That's very much where Spirent is well respected. So now we're able to change that conversation as they're looking to realize the benefit of putting more efficiency into their total operations.
So whilst we continue to do what we've always been good at in the development world, which is all about reducing the time it takes to develop new technologies and validate them, and then automating that process, we're taking it as well into what it will look like when you're operating in the networks and delivering those services to your end customers. How do you really assure that you can seamlessly deliver those new services and verify they're happening, and ... track the level of quality of service to your end customers? That's very important to a mobile operator with subscribers and to anybody who's delivering service to an enterprise customer.
CW: If you're talking with CTOs and CIOs this early in the process, are you in some cases influencing other vendors that they might choose, or other types of technology that they might choose, based on what you can tell them about the ability to pull that into a broader automated end-to-end assured solution?
EH: It's certainly informing them about the challenges they need to put on their suppliers and vendors. It's certainly helping them make those selection processes. It's also helping them where they're looking at developing their own implementation. They're developing their own virtual software management systems for NFV and running on bare metal switches. It's helping them look at the integration issues and how they verify that a new operating system is working well. It's really both what they're doing internally and also the dialogue they have with their external vendors. We've got a global footprint and we talk to pretty much everybody in the industry.
CW: Then let me turn that question around. Are you then also feeding back information to the vendor community as to what they need to be doing? Are they looking to you guys for some information, particularly around the service assurance piece?
EH: Yes. Again we're trying to change the dialogue that we have with our network equipment developers and our device developers by giving them better feedback on their functionality, their future road maps. We're helping them to hone those capabilities. I'd say that in terms of the value proposition, we've got a stronger dialogue with the service providers where those assurance divisions are going in and where we're talking to security officers. We're bringing them something new in terms of scale and realism and automation of security processes as well.
The developers have a pretty strong product development already. So we're more about a traditional business being able to operate more efficiently.
CW: What is the challenge around getting either your service provider customers or network equipment manufacturers to acknowledge and accept this new role for Spirent?
EH: It's about building relationships. It's about getting recognized outside the technical world that we're in. It's using a different language. In the past, we've been very good at talking about the latest versions of Ethernet, the variants of what are the requirements on wireless technologies. We're the world's leading expert in anything to do with satellite navigation. To get that into a broader discussion about the business direction and what their strategic objectives are and how we can help them with that, raising that level of contact and relationship, being part of different industry bodies and really getting Spirent out there and raising the profile really, I guess is what we're doing.
CW: How do you do that? How do you really go about raising a profile?
EH: It really is using our champions within the major customers to get the message to the senior people and then it's also making sure that we put out really informative and exciting information about what we're doing. And that we get to speak at major conferences. Like cybersecurity, where we had four presentations slots at the last Black Hat, which is an unheard of number of presentations for a company like Spirent. So we're making some real progress here.
Next page: Spirent on 5G rollouts


CW: So let's talk about 5G. Where do you see Spirent most engaged in those rollouts, which seem to be happening in different ways at different operators?
EH: So as you say, we've got a number of operators that are pursuing divergent paths to 5G deployment, so we are looking at how we support millimeter wave 5G or sub-6GHz 5G deployment. So we can be relevant in both sides. We're giving them new ways to interoperate hybrid 5G networks with a 4G core -- that's a complex world. We're looking at how we make it simpler for them to deal with the complexity. We're doing that in a number of ways, where we're improving the way that we test and assure. Some of our customers are [experiencing] a 50% reduction in the length of cycles. We're reducing their expenditure on capital investments through automated resource utilization in the development labs and testing labs and assurance processes -- about a 40% reduction in capex savings that we've realized for customers -- and a three-fold increase in the testing capacity and process and improving their time to market. We're enabling them to do faster releases, ten-times faster upgrades, we're helping them realize the move from development into operations with about 55% reduction in releasing deployment cycles.
So we're really making very tangible benefits. When you look at the business side, we're delivering on some multi-million-dollar savings, a $20 million annual saving for one of our large US service providers. We achieved a $2 per subscriber savings -- it doesn't sound like a lot of money, but with millions of subscribers... it's quite compelling.
CW: So you're able to actually quantify that for them upfront as they're making their 5G deployment plans?
EH: We're giving them the method so they can estimate it and some of the numbers I've been giving you are the ones that have been done on 4G service improvements and the initial 5G activities that our customers have measured and got back to us and said, "Well yep, these are the savings that we achieved."
CW: So you're giving them the tools to estimate it but they're actually coming up with the numbers.
EH: Yeah. That's right.
---
Deep dive into real-world issues and virtualization deployment challenges with industry leaders. Join Light Reading at the NFV & Carrier SDN event in Denver, September 24-26. Register now for this exclusive opportunity to learn from and network with industry experts – communications service providers get in free!
---
CW: From Spirent's perspective, what changes with 5G in terms of what the service providers need to do? What are the challenges in getting that 5G infrastructure in place?
EH: You've got the concept of slicing up the spectrum into smaller parts. The spectrum utilization becomes very complex. We're enabling them to verify that's being done efficiently. The whole concept of the deployment of microservices and turning up services to individual customers across the network -- we're able, through our active assurance systems, to show the quality of the service that's being turned up and we're developing a whole series of use cases, whether that's a particular mobile service for a video deployment or whether it's a 5G-related data service financial customer -- those are two examples of things that we've done. It's really giving them a reliable way to measure and record the quality of service they're getting and really focus where they put their engineering support resources.
CW: They know where they need to beef things up, and where they don't -- not spending money where it doesn't need to be spent.
EH: Yeah, exactly. Don't get people working on anything that is not a top priority [and make sure] you're sending the right people to the right place with the right skillsets to deal with the issues.
CW: Is it your personal opinion that the industry is fairly ready for the 5G rollout in the 2019/2020 timeframe that everyone's expecting?
EH: Not really. I think there's an awful lot to be done. You'll see some high-profile deployments. They'll be quite limited in geographic footprint. You'll see some major headline events like the Olympics or major events where operators will build 5G infrastructure to serve that -- that will happen. We're seeing a lot of investment going into Asia. A huge amount of investment going to 5G in China in particular. They're putting a lot of resources into their deployments.
CW: Are you engaged in some of that activity?
EH: Yes we are -- we are the leading guys doing this work.
CW: So you're getting a first-hand look at what some of the early challenges are going to be, and what it's going to take to roll all this out?
EH: Absolutely, yes.
In part two of this CxO interview, Hutchison explains how Spirent is getting more engaged in cybersecurity and working to change its internal culture.
— Carol Wilson, Editor-at-Large, Light Reading

(0) |