No matter how you slice or spin it, Verizon Wireless's LTE network is still the strongest in the US, according to RootMetric's latest nationwide survey.
AT&T Inc. (NYSE: T), however, is hot on its heels while T-Mobile US Inc. and Sprint Corp. (NYSE: S) are showing improvements, but clearly have their favored geographies -- rural for Sprint and metro for T-Mobile.
There are several vendors that test wireless operator network performance, but RootMetrics is among the most comprehensive. Its testers spent the first half of the year driving 237,000 miles -- equivalent to ten times around the world -- to test LTE across big cities, small towns and rural areas in the US, in addition to 7,323 indoor spots. The company also issues reports on venues, airports and specific states, but this is its biggest report of the year. (See T-Mobile Aims to Close Map Gap on Its Own, Verizon Still Best Network, RootMetrics Finds and OpenSignal: T-Mobile's LTE Is Fastest.)
The report for the first half of 2015, released Tuesday, crowns Verizon Wireless the overall network performance winner, as it has in years past. Verizon also won for network reliability, speed, data performance and call performance (via 3G only) with AT&T in a close second in every category. The only category it lost out in was text performance, which AT&T won.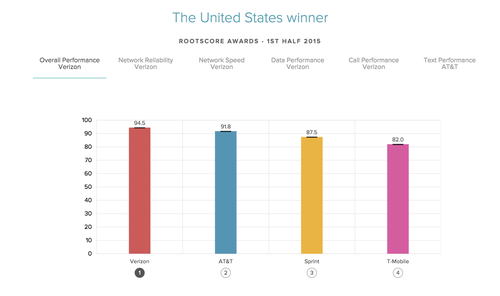 ---
For more on the wireless network wars in the US, visit the dedicated mobile content section here on Light Reading.
---
The overall results encompass both metro and less populous rural areas, but the story is quite different in each. T-Mobile, for example, continues to be strong in metro areas, but fell behind in rural markets despite having low-band spectrum now deployed in 141 markets. (See T-Mobile Puts Low-Band to Work and T-Mobile: Going Bananas for Low-Band .)
Sprint, on the other hand, has been slowly improving in major cities, but saw the most improvements in rural markets, where it has roaming LTE partnerships with local carriers. (See Sprint Turns Up 16 More 2.5GHz Markets and Sprint Adds First 12 LTE Rural Roaming Partners.)
Owing to those strengths, Sprint actually finished ahead of T-Mobile in overall performance, network reliability and text performance. RootMetrics says, "In most categories, Sprint's scores showed progress in terms of closing the gap with the leaders from prior testing." (See Sprint Promises Better LTE on Lower Capex.)
T-Mobile did, however, beat Sprint in the all-important categories of network speed and data performance. (See Sprint Versus T-Mobile: Which Metrics Matter?)
"T-Mobile recorded median download speeds faster than 10 Mbps in 102 of the 125 metro areas we tested, with speeds faster than 20 Mbps in 45 of those markets," the report reads. "T-Mobile's tally of topline speeds was second only to that of Verizon (51), but far surpassed those of AT&T (11) and Sprint (0)."
Carriers often use these types of reports to back up their advertising claims and reinforce their images. More than ever, however, these images have been in flux. In the past six months alone, T-Mobile has stepped up its LTE speeds -- and its trash talk; Sprint has continued to promise further network improvement; Verizon has maintained its superiority and AT&T has just made up its own metric in "strongest LTE signal." (See T-Mobile Customers Use the Most LTE Data, Sprint CEO Claims Next-Gen Network Will Be #1, Verizon's 4G Strength Keeps It Above the Fray and AT&T Sends Strong Signal in New Ads.)
Taken together, the results also suggest that competition in the US has had a positive effect on networks here, encouraging the operators to invest more and improve performance across the board (while also adjusting their price plans and offers). Check out the full report here.
— Sarah Thomas,

, Editorial Operations Director, Light Reading