A Utah-based wireless test bed is positioning itself as a platform for testing major new functions for both wireless and cloud environments, including large open source efforts from groups such as ONAP. Already, the POWDER-RENEW test-bed, based in Salt Lake City, was able to instantiate an OpenStack platform for use in the ONAP Academic Summit held in October in New York City, almost on demand.
Powder stands for A Platform for Open Wireless Data-driven Experimental Research with Massive MIMO Capabilities. The test-bed is a collaborative effort between the University of Utah and state and local officials that is being built over the next two years to stretch from the UU campus to downtown Salt Lake City. It will deploy new radio hardware and software being developed by the RENEW team led by Rice University.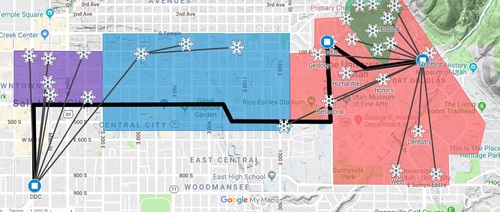 Powder-Renew is one of two test-beds that are already part of the National Science Foundation (NSF) 's Platform for Advanced Wireless Research (PAWR), which is a $100 million program jointly funded by NFS and an industry consortium that includes all four major wireless operators. A second test-bed is being built in New York City and two more are planned, under the project office co-run by US Ignite and Northeastern University.
Already, Powder has developed some powerful capabilities that are enabling a wide range of research possibilities and looking to more tightly link its academic work with what is happening in the industry, says Kobus Van der Merwe, an associate professor in the University of Utah's School of Computing.
"A really key thing for us building a platform like this is that we want to enable the broadest set of research," Van der Merwe says in an interview. "We're not going to necessarily do the research ourselves -- we are building a platform for academia and industry to do research on it."
It's a challenge to set up a test bed when you don't know exactly how people are going to want to use it, he admits. But today's software-defined technology is making the process easier, letting Powder use general-purpose hardware and then deploy different pieces of software to define actual functionality of platform.
"Today, we can take software and put it on general-purpose hardware and it looks like a 4G LTE EPC [evolved packet core] mobile network. But then we can take the same hardware and put different software on it tomorrow, and now it looks like 5G network or maybe it looks like a connected vehicle network," Van der Merwe says.
Profiling for good
What Powder already has is a mechanism that it calls a profile, which is essentially a recipe for instantiating something that assembles the ingredients and how they are configured, he explains, including inter-dependencies.
"This is a mechanism we have developed over a fairly long period of time and we have used in a number of successive test beds we have built at the University of Utah," Van der Merwe says. "Basically, it's a four-step process: You pick the profile you want, you parameterize it with how many compute nodes you want, etc., you give it a name and say whether you want to instantiate now or in the future."
At that point, the control platform that University of Utah developed takes this profile as submitted, checks for available physical resources and, if those are available, configures the physical set-up, he says. In the case of the Open Network Automation Platform (ONAP) Academic Summit, to which some of his students had been invited, AT&T Inc. (NYSE: T) and the Linux Foundation were both aware of the platform capabilities and reached out a couple of days before the Summit to see if Powder could assist with an OpenStack instance.
"They knew we had [OpenStack] and one of the ways ONAP is being instantiated is through or on top of OpenStack," Van der Merwe comments. "I believe now they are moving more toward Kubernetes, but at the time they were interested in OpenStack. So we got together my OpenStack expert guy and one of the ONAP experts and within a couple of hours, they were able to take one of our vanilla OpenStack instances and create an ONAP profile for that, so we actually now have an ONAP OpenStack profile available in our platform as well."
The power of the profile process is that it can take something that might take days or weeks to do, depending on the level of expertise, and accomplish that in minutes, he notes.
"Also, because we essentially share the platform in a fairly fine-grained manner, once you have something like that set up, it's yours," he adds. "It's not like a cloud instance where you get user access, you get cloud administrator access, you can mess things up, break it and fix it, it's yours."
Big software environments such as OpenStack and ONAP make assumptions about the underlying infrastructure, and accommodating them means making some changes -- in this case to Powder's OpenStack instance to meet ONAP's platform assumptions. But Van der Merwe says that's not a big deal for the test-bed, because it mostly amounts to fine-tuning, not major issues, and that's common for a complex software stack.
He believes Powder's profile capabilities will enable the test-bed to effectively do a wide range of wireless and mobile research using that mechanism, quickly instantiating a wide range of possible networks and allowing that to be leveraged by platform users.
"This is the way we think of doing our platform, we have these profiles, users will come in, they will take an existing profile, instantiate it, modify it, make their own one," he says. "That really helps the whole development process, helps the experimental process, helps the research process because you have, even if you are a relative novice, the ability to instantiate a complex stack like OpenStack or ONAP or LTE ECP. Or if you have initial 5G profile, you can instantiate your own instance of that, and tweak it and break it and experiment with it. Then once you know what you are doing, you can create your own profile. It is a very powerful mechanism in terms of research process, the scientific process, and you can capture it in an archival form."
---
Want to know more about building out infrastructure for 5G wireless support? Check out our dedicated 5G channel here on Light Reading.
---
The goal now is to get the word out about Powder. According to Mari Silbey, director of communications of US Ignite, all of the PAWR platforms are funded equally by the NSF and the PAWR Industry Consortium. The two groups split time on the test-beds equally as well, with some time reserved for the platform operator. The expectation is that not all of the reserved time will be consumed, leaving time available for the platform operator to decide how others can use the test-bed and also what to charge for that usage.
Open source groups such as ONAP may work through consortium members -- which include AT&T -- or there may be other arrangements made.
"The hope is that the Platforms will be widely used by many different kinds of experimenters, with the major funding partners (NSF and the Industry Consortium) getting priority during the first five years of operations," Silbey explains in an email response. "Ultimately, it is our goal to have the Platforms be self-sustaining, with the Platforms setting usage rates for the various types of users accordingly."
Light Reading reached out to the Linux Networking Foundation for comment, but they have not yet responded.
— Carol Wilson, Editor-at-Large, Light Reading