Revenues at Tellabs Inc. (Nasdaq: TLAB; Frankfurt: BTLA) are still in a slump, but executives there say the telecom downturn may be nearing its end.

In a quarterly teleconference with analysts this morning, CEO Michael J. Birck acknowledged the industry is still "sick," but he sees hopeful signs, based largely on talks with leading carriers worldwide: "We probably are at the bottom of the trough... I don't think that means we're about to climb out, but... we're on the flat surface."

For the quarter, Tellabs reported revenues of $234 million, up 5 percent sequentially (see Tellabs Sees Slight Q2 Uptick). The vendor also posted a net loss of $111 million, or 27 cents per share, including $80 million in restructuring and other charges.

Execs cited increased international sales for the modest revenue growth, especially in the Asia/Pacific region, driven by the success of the new Tellabs 6350 SDH transport switch (see Tellabs Ships Metro Crossconnect). With 100 orders for this switch so far, Tellabs says it's the fastest selling new product the company's ever released.

Another bright spot: The Tellabs 5500 NGX, the latest iteration of its crossconnect mainstay (see Tellabs Builds on 5500 Legacy), has been sold to an unnamed North American ILEC. Birck said the platform's ability to support T1 provisioning, along with newer Gigabit Ethernet and Ethernet-over-Sonet, is helping its outlook.

Tellabs is also pleased with its acquisition of Vivace Networks, which has become Tellabs San Jose and is still on target to meet guidance of $15 million to $30 million in edge router and switch sales this year (see Tellabs Snags Vivace for $135M).

While international sales rose to an unprecedented 40 percent of revenues, there weren't any signs of specific product growth other than the 6350. Meanwhile, sales in North America remained lackluster. Indeed, compared with the first six months of last year, it looks as if things have worsened.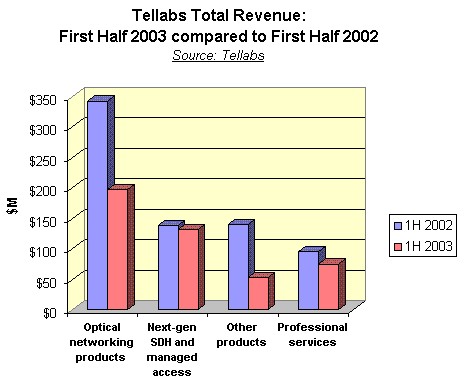 Birck was forthright that Tellabs still needs to cut jobs, close facilities, and eliminate products in order to meet breakeven at $275 million in revenues.

He said R&D levels are still too high at 27 to 28 percent of revenues, despite a layoff of more than 600 employees last quarter that cut into that area (see Tellabs Earnings a Downer and Tellabs Lays Off as Q1 Sales Fall).

Product-wise, the 6500 transport switch may get the axe. Birck says he has "serious concerns" about it, despite solid sales reports earlier this year (see Tellabs Posts Q4 Loss). Sales haven't "played out," he said, acknowledging that it may be "the wrong product at this time."

For transitioning voice to packet networks, an area for which the 6500 has been earmarked, Birck said the company will probably keep developing the former Vivace products, now the Tellabs 8800 series Multi-service Switch/Routers.

Despite potential cuts, and a grilling about outlook from analysts, Tellabs execs maintained their hopeful stance, without furnishing any real guidance. Bottom line? Tellabs sees progress with no immediate payoff. If things aren't better, they probably won't get "a helluva lot" worse, Birck said.

— Mary Jander, Senior Editor, Light Reading