Recent news from one of Canada's leading service providers shows that nobody has been hit harder in the telecommunications depression than the telecom citizens of the Great White North.

Last week, BCE Inc., the parent company of Bell Canada (NYSE/Toronto: BCE), withdrew its financial commitment to subsidiary Teleglobe (NYSE: BCE), which BCE purchased for about US$4 billion in November 2000. At the same time, the CEO of BCE, Jean C. Monty, unceremoniously resigned his position in favor of colleague Michael J. Sabia, in a move that shocked Canadian investors, analysts, and media.

What's it all mean? First of all, it means that Teleglobe is in a heap of trouble. Secondly, it means a ripple effect is still likely to be felt in the equipment provider market, both in Canada and elsewhere.

Teleglobe posted a net loss from continuing operations of $43 million on $317 million for the quarter ended March 31, 2002. Now that it's been abandoned by protector BCE, the company says it's reviewing its options, which include refinancing and a possible sale or merger. BCE's pullout has also unleashed a string of lawsuits (and rumors of lawsuits) on behalf of Teleglobe shareholders, bondholders, and other interested parties.

At BCE, things don't look so cheery either. The Canadian ILEC anticipates that its revenues for 2002 -- without the input of Teleglobe -- will be flat compared to last year, falling between US$11 billion and $14 billion, about 80 percent of which will come from Bell Canada revenues, which are especially strong in DSL, wireless, and satellite TV. Last year, BCE earned $14 billion in revenue.

At the same time, BCE watchers anticipate more news: About 20 percent of BCE's Bell Canada is owned by SBC Communications Inc. (NYSE: SBC), which gets the chance to sell or renew its stake starting in July 2002. Analysts say it's possible SBC may opt to sell the stake, for which Ameritech (now SBC) paid about $3.4 billion in March 1999. If that occurs, it could affect BCE's financials, sources say.

The impact of these developments at BCE could be felt (for better or worse) in North American telecom for a long time. For one thing, BCE is one of Canada's top two carriers, the other being Telus Corp. (NYSE: TU; Toronto: T), so its fortunes are closely tied to those of the North American telecom market, of which Canadian carriers account for roughly 16 percent.



Ongoing Capex Cuts Sources say the potential regroupings at BCE also reflect an season of reckoning up north, one that will ultimately lead to a bottoming out in carrier spending in Canada next year -- a trend that is bound to tug negatively at the North American carrier equipment market.

According to market researcher IDC Canada Ltd., Teleglobe, along with 360networks Inc. (which filed for bankruptcy protection in Canada and the U.S. last June) were among the most profligate spenders during the capacity building boom, which ended in Canada in 2001. Teleglobe's scuttling by BCE signals further spending reductions.

At the same time, Bell Canada and Telus successfully built out nationwide Canadian networks over the past couple of years in order to improve their respective positions as do-all operators of voice, data, and wireless services. That means there's plenty of capacity.

"Canada's ILECs probably won't need to light up more capacity on their networks for 18 to 24 months," says Lawrence Surtees, senior telecom analyst at IDC Canada.

What's more, the buildout that just ended at Bell Canada and Telus likely propped up Canada's capex figures for 2001. This year, the absence of big spending by these players, coupled with the reduced contributions of 360networks, Teleglobe, and others, spell a slide that may not hit bottom until 2003.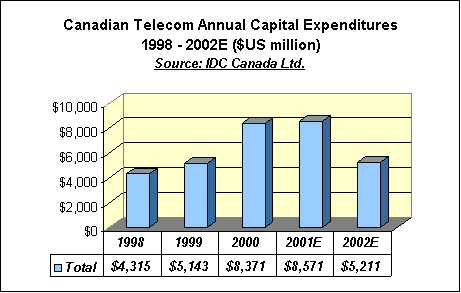 "The Bell Canada and Telus buildouts put Canadian capex in 2001 slightly ahead of 2000," Surtees says. While these carriers will likely expand their metro spending this year, that's not likely to make up the difference created by the shortfalls just mentioned.

Bottom line? "Canadian telecom capex is poised to deflate in 2002 and to plunge to 1999 levels at $8.1 billion, according to current carrier spending forecasts," Surtees says. "Optimism that the bottom of the telecom capex spending valley has been reached is premature. The bottom of the spending valley in Canada may not likely be reached until 2003."

— Mary Jander, Senior Editor, Light Reading
http://www.lightreading.com