When Telefónica SA (NYSE: TEF) formed its Digital division in 2011, it clearly signaled its intent to be a modern telco -- more than just a network operator offering voice and data services. (See Telefónica's Looking Trendy and Telefonica Holds Key to Digital Model.)

And now that Digital division is starting to deliver on its vision with the launch of a unified communications app for smartphone users called Tu Me that looks like an alternative to Skype and other IP communications services.

And this is when Telefónica finds out if it has the skills, vision and fortitude to meet the needs of today's demanding end users.

Tu Me is a smartphone app currently available only to iPhone users -- it can be downloaded for free from the Apple AppStore. A version for the Android market is in development. And while it's being promoted to Telefónica's global customer base, it can be downloaded and used by anyone on any network.

It enables users to place voice calls, send text and audio messages, share photos and share location details with other Tu Me users all from the same app without using up any minutes or texts included in service bundles.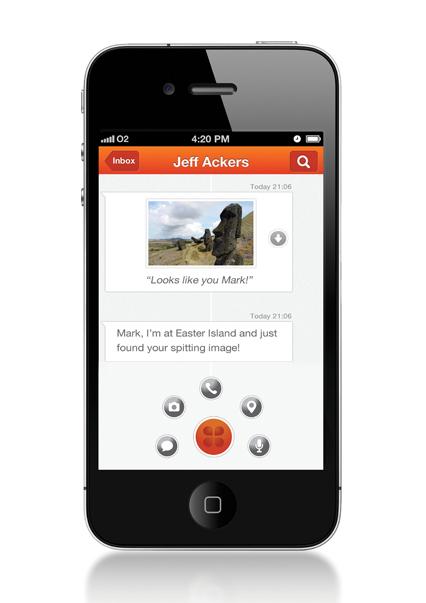 The interface looks simple and Telefónica Digital is stressing the user-friendliness of the "interaction timeline," which allows people to track their usage chronologically, something the developers believe will resonate well with smartphone users.

The app can be used over Wi-Fi connections, so can be used without using up any data allowances. Interaction data, messages and photos are all stored online, so are still available if a smartphone is lost or broken, but everything is tied to a mobile account.

In developing Tu Me, Telefónica's Digital division has clearly been utilizing its in-house capabilities, including the Jajah VoIP smarts it acquired in 2009. (See Telefónica Buys VoIP Player Jajah and TEF Launches Jajah VoIP Services.)

What's missing
So Tu Me has, on the face of it, plenty to attract potential users, many of whom will probably give it a try to see what it's like.

But, here's what they'll find -- and not find.

Using the app does count towards data allowances when used on a mobile network connection.

And it's a closed community -- users can only communicate with other Tu Me users (users can invite others to join via a text message or email) so calls can't be placed to people outside the Tu Me community. And the app does not include video communications -- increasingly popular using Skype and Apple's Facetime app -- or instant messaging capabilities.

So will these capabilities be added soon? Maybe, appears to be the answer. The operator says it's going to launch a "number of enhanced communications services" in the coming months that will be made available to its own mobile customer base, but it's keeping its long-term cards close to its chest at the moment.

Telefónica Digital spokesman Nick Wilkins says the company isn't revealing its plans just now, saying only that video calls are "a possibility … that's probably longer term. We're looking at a range of possibilities. Today is our first step, with a new brand [Tu] and a new service." He added that some future services would be made available to anyone while others would be made available only to Telefónica's mobile customers.

Telefónica's strategy, then, appears to be based on that tried and tested formula of offering enticing services for free (mobile data charges notwithstanding) and then generating additional revenues from value-added, enhanced capabilities.

Let's see how that works. In the meantime, look out for Tu Me app download figures. If they're impressive, Telefónica Digital will be shouting about them.

— Ray Le Maistre, International Managing Editor, Light Reading