Grab the chips. Some salsa is coming to the telecom world in 2005.

Why's that? Well there are several reasons – but the primary one is that after years of belt tightening, sevice providers appear ready to spend again.

As the December issue of Light Reading Insider reports, capital spending has stabilized (see Insider Sees 'Calm' Capex Growth). Better yet, within today's depressed capital spending budgets, large dollars are being committed to exciting new projects such as broadband and IP video.

But beyond simply crunching numbers for the next year, there are larger, more important forces that will lead service providers to launch a sustained technology investment campaign over the next several years (more on that below). Keep in mind, telecom investment binges tend to be big – and last long periods of time. What we've seen the last four years has simply been a lull in the technology investment cycle.

It's fun to watch the future unfold. Back in November of 2001, when Light Reading Insider was a mere pup (and referred to by another name), we published our first capital spending outlook. In it, we predicted many years of rough sledding and a steady decline that would persist until 2005, when things would start to get better (see Optical Oracle: More Carrier Cutbacks and Carriers at Risk).

Four years later, I'm happy to report that's exactly what's happened – and 2005 indeed looks like the "fulcrum year." The decline in capital spending has stopped, carrier balance sheets have improved, and grass-roots interest in new technology is driving services such as VOIP, wireless Internet, and IP video and audio.

Which brings me to the second reason telecom spending will rebound: competition. Service providers and MSOs are gearing up for the battle of the century to provide new broadband applications. And they have no choice but to bet the farm on new consumer applications.

There are reasons to believe that service providers will boost capital spending significantly. Why? Well, besides the fact that they must do so, in order to compete, they are now in a position where they can do so. It goes back to the changes since 2001. In 2001, carrier balance sheets were degrading and cash flows were declining. Now it's the opposite. For example, take a look at the chart below.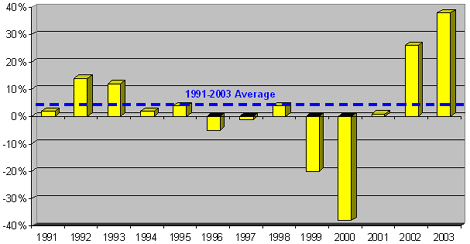 Leading service providers have actually built up the largest cash-flow surplus in 12 years. If that doesn't give them the power to spend, I don't know what does.

This comes at a convenient time, with a new wave of technology being developed in the telecom services and equipment market.

The excitement about some of these new technologies is growing, as demonstrated by a wide range of research projects in the Light Reading universe.

Case in point: Our Leading Lights Awards program generated hundreds of pages of awards entries, many of which included detailed financial and customer information of startups and public companies alike. A general theme among these entries was that next-generation products based on carrier-class Ethernet and IP technology are generating an incredible amount of interest. Most important, these new products are now generating revenue and customers.

I'd go as far as to say that the startup survivors of the Great Telecom Shakeout are emerging with a stealthy strength not seen since the late 90s. In some cases, they are stronger because they're focused on profitablity and stability, rather than a flash-in-the-pan IPO. Frankly, it was refreshing and surprising to find that once the homework was done, we had too many candidates for the Best IPO Potential category – so we named seven finalists (see LR Tags Top IPO Candidates).

I urge you to read the entire list of Leading Lights finalists to get a glimpse of the resurgent technology developments in the world of telecom:

Furthermore, recent research reports issued by the Heavy Reading analyst crew describe growing demand for new IP technology. Ethernet services, next-generation routing technology, VOIP/softswitching, and media gateways are just a few of the markets that are on the verge of exploding (see LR Dives Into the Ether(net), Report: Ethernet Exploding in China, Heavy Reading: Cable Cos Race for VOIP, Heavy Reading Reports on VOIP, and The Softswitch Name Game).

This confluence of elements – more cash flow, more products, more reason to compete, and more leading-edge technology – leave the industry moving in only one direction: up and to the right.

Details of this exciting resurgence will be presented at Light Reading's Telecom Investment Conference in New York City on December 15. On that day, we plan to discuss all the stuff above. I've also ordered my tuxedo for later that evening, when we'll be holding a gala dinner to announce and celebrate the winners of the Leading Lights Awards – honoring the most exciting people, companies, and products of 2004.

It's clear that the theme for both events is that everybody's ready for the next wave in telecom.

— R. Scott Raynovich, US Editor, Light Reading


---
For more information on the Leading Lights Awards, click here.


For more information on Light Reading's Telecom Investment Conference, click here.