Carriers are mulling marked increases in spending on DWDM and optical crossconnects, according to results of a recent survey by KMI Research.

KMI says it got Web-based responses from 141 carriers around the world to a July 2003 survey aimed at probing spending plans for a range of products, including Sonet (Synchronous Optical NETwork) and SDH (Synchronous Digital Hierarchy), DWDM, digital crossconnects, and Optical Crossconnects.

Carriers were asked to indicate whether or not they'd increase spending in 2004 on the different product areas. Results were compared with those from a similar survey KMI conducted last year at this time to test carriers' plans for 2003. The firm received about 150 responses last year.

As the following chart shows, spending's on the rise overall in the areas of equipment mentioned above. But in some areas the rise is more marked than in others.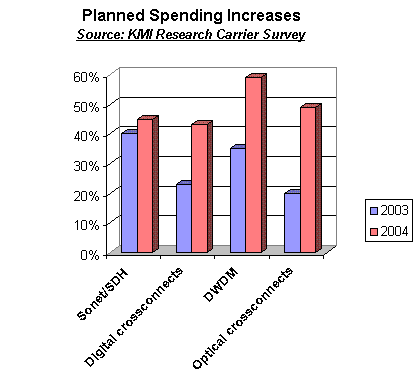 When it comes to Sonet/SDH equipment, for example, 35 to 40 percent of last year's respondents said they planned to increase spending in 2003. This year, 40 to 45 percent said they'd increase spending. For digital crossconnects, 23 percent of 2003's respondents said they'd spend more, while this year, 43 percent said they'd spend more.

The biggest changes between last year's and this year's results were for DWDM and optical crossconnects. In 2002, 35 percent of KMI's respondents said they would increase spending on DWDM gear. This year, 59 percent said they'd increase such spending. Last year, 20 percent of respondents reported they'd increase spending on optical crossconnects. This year, 49 percent said they'd spend more on these devices in 2004.

In some ways, the results don't meet expectations. KMI analyst Michael Arden is puzzled by respondents' indication that they'd continue to spend on digital crossconnects, despite research that shows that segment of telecom equipment dwindling in sales.

Overall, the results indicate the carriers surveyed want to spend more this year than last. Whether they actually will or not remains to be seen, however. Further, there's another odd quirk in the results: Based on the responses to multiple questions, carriers say bandwidth growth on their networks year-to-year has continued to tumble since 2001.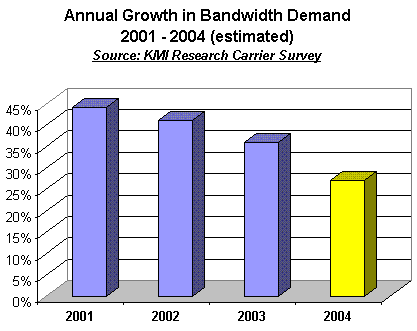 KMI says the information isn't inconsistent, because even though growth is slowing, carriers are reporting on increases in bandwidth across all their networks. And they may be planning to spend more on gear for data and video services.

— Mary Jander, Senior Editor, Light Reading