ATLANTA -- Supercomm -- On Tuesday, June 4, the second day of Supercomm 2002, Light Reading held a launch party for its newest editorial endeavor, Unstrung, which covers the wireless world like no other publication can (see Unstrung – Unleashed). Folks from throughout the communications industry joined the Unstrung/Light Reading family for beer and nosh on the jam-packed upper floor of the Gordon Biersch Brewery in midtown Atlanta.

First, let's get one thing clear: Now more than ever, we realize that some good, hardworking people are genuinely worried about their companies -- indeed, their livelihoods. It was time to let loose.

Tuesday night afforded an opportunity for attendees to see another side of Light Reading's staff -- rather than the hard-nosed journalists that everybody seems to fear are focused on the latest optical networking catastrophe. Quite frankly, the new side felt pretty good. Of course, we were pretty sloshed at the time, so we would have felt fine regardless.

Anyway, as is usually the case at these affairs, food was eaten, fortunes were won and lost at the pool table, and healthy amounts of barley and hops were consumed. Everyone involved had a very nice time, according to information obtained from local police reports.

And, of course, a Light Reading party wouldn't be complete without some sort of editorial documentation of the night's proceedings. What follows is a collection of photographs taken at the party. Think of it as our way of saying thanks for making Unstrung's launch a huge success. Finally, for those of you who find these little photo essays to be a painful read, we can only say we sincerely hope that while you were at the party you were at least able to have as much fun at our expense as we're about to have at yours.

And now, the photos!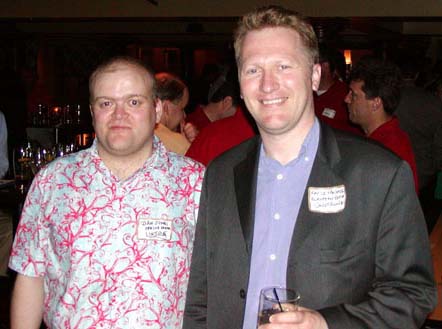 — Phil Harvey, Senior Editor, Light Reading
http://www.lightreading.com