4:57 PM -- Having wasted the morning ranting about "videoconferencing" and researching obscure geography, I'm finally getting around to blogging last night's FSA Dinner.

The Fabless Semiconductor Association -- which is changing its name to the Global Semiconductor Alliance -- puts on a fab feast and awards show every year. They got 1,500 attendees to the Santa Clara Convention center this time, a sellout, according to the PR person sitting next to an empty chair. One person told me it was four times bigger than the Semiconductor Industry Association (SIA) bash.

The FSA always manages to get a big-name speaker, too.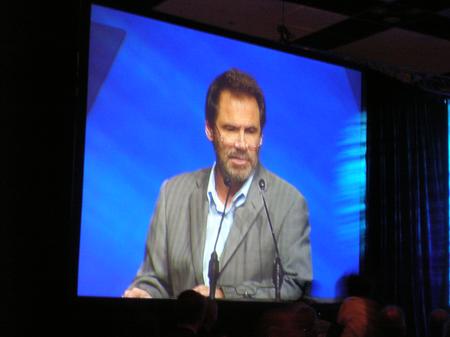 Keynoter Dennis Miller got to rant pseudoscientifically about global warming, wax nostalgic about Monday Night Football, and deliver similes in sentences so long that they lost half the audience by the time he was done. You know, the usual.

He did well at first, but he was reading everything off of notes. The long pauses did him in more than his politics. As the crowd quieted, he started flipping through the pages, admitting out loud that he was scrounging for leftover jokes.

It's not what you'd call a strong telecom show, but I'm glad to still be on the FSA mailing list. The awards dinner is a good time -- even if a good percentage of people slip out early -- and I can reconnect with corners of the industry I no longer see day-to-day. They've pledged to keep doing this as the GSA, so I'll hope to be back next year.

— Craig Matsumoto, West Coast Editor, Light Reading