This report series documents the results of a Cisco IP video infrastructure, applications, and data center test. Earlier this year, following months of talks with Cisco Systems Inc. (Nasdaq: CSCO), Light Reading commissioned the European Advanced Networking Test Center AG (EANTC) to conduct an independent test of a premium network solution to facilitate advanced IP video services for service providers, enterprises, and broadcasters alike.

Having highlighted IP video applications and the service delivery network, it's logical to now consider the last piece of any media-aware network, or "medianet" – the service provider data center, the heartbeat of all the application services. (See Testing Cisco's IP Video Service Delivery Network and Video Experience & Monetization: A Deep Dive Into Cisco's IP Video Applications.)

Service providers are facing a couple of new challenges in the data center. Video on demand (VoD) and all the other video application services require a pretty substantial server farm and high-performance storage on a large scale. The quality of the data center is visible to customers in two ways: First, the service performance and flexibility; second, the service price. These are obviously conflicting goals for service providers. For this report, we have verified how far Cisco's service provider data center solution can help to resolve some of the conflicts between price and performance.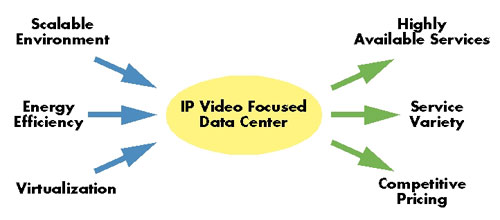 Service provider data centers are seeing rapid growth. New server farms are needed for most, if not all, the applications associated with quad-play services, in addition to the enterprise applications that are now offered. To put matters in a historical perspective the first wave of broadband access service deployments was manageable – just the AAA (authentication, authorization, and accounting) and service selection systems; the second wave added packet voice-related services; but the current wave of deploying video services requires new solutions. The traditional "new service, new server" approach that worked for a long time is not competitive any more.

Now, when it comes to the ISPs' backyard, we should really be looking to large enterprise data centers for guidance. Those guys have experienced the pressures of scalability, flexibility, and total cost of operation for years already, and are (for once!) much more advanced than the average service provider.

Storage area networks (SANs) have proven their benefits in large enterprises, where they have been unanimously adopted. Computing power and storage are separated into unbundled modules that can be interconnected any-to-any – increasing flexibility in resource allocation and creating an economy of scale.

Service providers are still clinging to their direct-attached disks for service delivery to avoid adding complexity.

Our intent in the following data center tests was to find out:


Is there a risk in moving from direct-attached disks to a Cisco SAN-based solution?
What are the specific benefits of Cisco's integrated storage networking solution, compared to a plain vanilla SAN implementation?
Can any of a medianet's applications function while using network-attached disks?


A logical extension of the migration to SANs is the virtualization of computing resources – an area of new developments and a burning issue related to the industry's move towards green IT.

Virtualization allows making more efficient use of the CPUs running on all these servers. Almost all servers spend a great deal of time running idle. They can be hosted on a single physical system, or clusters thereof, to run multiple instances of server applications (virtual servers).

The upshot? You save on the number of physical machines needed to operate a service (and also save on electricity, cooling, and the physical hardware maintenance). You also are able to run the same number of services using less space.

So what has Cisco, as a router and switch vendor, to do with data center virtualization? A lot, actually. Virtualization adds operational complexity in directing (routing, switching) network data to the physical systems running the appropriate virtual server. And a hard look at this data center solution helped us verify Cisco's claims that they have found an elegant partnership with VMware Inc. (NYSE: VMW). (See Cisco Dreams of Data Center Unity and Cisco's Nexus Targets Data Center's Future.)

The story sounded convincing. On the slideware side of things, it should appeal to every service provider CIO or CTO: Be green, save on operational expenses (opex), have more space in the data center for future growth. But:


How did the Cisco solution work in our test?
How did the IP video applications behave using network-based disks running on virtual servers?
Is Cisco's solution ready for the future service provider data center?


The report will shed light on just these questions. Here's a hyperlinked table of contents:



— Carsten Rossenhövel is Managing Director of the European Advanced Networking Test Center AG (EANTC) , an independent test lab in Berlin. EANTC offers vendor-neutral network test facilities for manufacturers, service providers, and enterprises. He heads EANTC's manufacturer testing, certification group, and interoperability test events. Carsten has over 15 years of experience in data networks and testing. His areas of expertise include Multiprotocol Label Switching (MPLS), Carrier Ethernet, Triple Play, and Mobile Backhaul.

— Jambi Ganbar is a Project Manager at EANTC. He is responsible for the execution of projects in the areas of Triple Play, Carrier Ethernet, Mobile Backhaul, and EANTC's interoperability events. Prior to EANTC, Jambi worked as a network engineer for MCI's vBNS and on the research staff of caida.org.

— Jonathan Morin is a Senior Test Engineer at EANTC, focusing both on proof-of-concept and interop test scenarios involving core and aggregation technologies. Jonathan previously worked for the UNH-IOL.

Next Page: Results: Cisco's Storage Area Networks