11:00 AM -- The schwag market had been pretty slow lately -- until the Byte and Switch editors hooked me up.

Storage solutions provider Advanced Digital Information Corp. (Nasdaq: ADIC) has launched a nifty USB-powered coffee warmer. You plug it into the USB port of your laptop -- and presto! You've got a place to keep your coffee warm.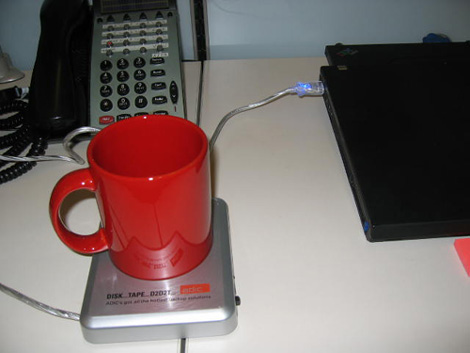 I've been testing it all morning. It works. Yes, it's pretty weird. And I'm totally wired.


Marketeer: Adic
Name: The "Coffeenator," a portable USB-powered coffee hotplate
Era: Post-bubble
Debut Venue: Mail-in gift
Field notes: Ranks highly on the geek factor. Use in public, and you're sure to lose friends.
Marketing message: "We're creative. And pretty dorky too."
Status: Currently shipping
Past Schwag Museum entries:

Light Reading