Cisco Systems Inc. (Nasdaq: CSCO) has remodeled its data center division, which includes storage, and put a new boss in charge.

Jayshree Ullal will be senior VP of the data center, switching, and security technology group, according to executive changes announced Thursday night (see Cisco Shuffles Execs ). Ullal has headed the security, optical networking, and LAN switching groups during her 12 years at Cisco (see Cisco's Ullal Talks Optical Future). She reports to new chief development officer, Charles Giancarlo (see organization chart below).

Meanwhile, a bunch of the original Andiamo Gang are out. Outgoing chief development officer Mario Mazzola and senior VPs Luca Cafiero, Prem Jain, and Soni Jiandani have all retired. All three were part of the Andiamo spin-in, which developed Cisco's MDS 9000 series of SAN switches. Cisco officially closed the deal at a price of $750 million 17 months ago (see Cisco Buys Andiamo Finally).

Ullal's new division is also shaped differently. When Cafiero was in charge, storage was part of the data center, switching, and wireless technology group. Now, Cisco has added security and put wireless elsewhere. Apparently, the company sees how inextricably twined security and storage have become (see NetApp Buys Decru and Wedding of the Year).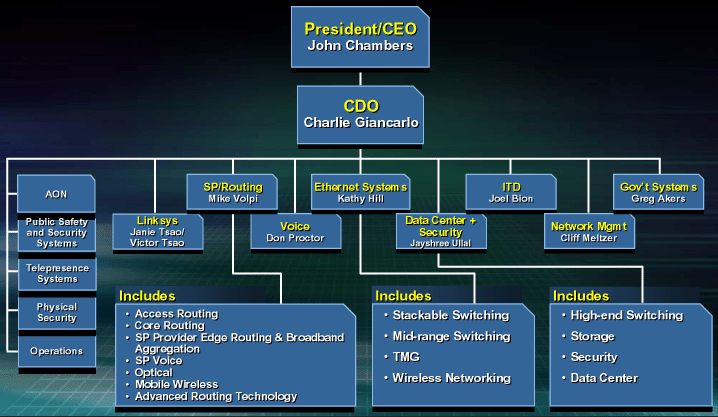 Ullal is linked with Mazzola, Cafiero, and Jain, but not through Andiamo. She came aboard with the others from Crescendo Communications, the networking communications company that Cisco bought in 1993. That was Cisco's first acquisition, and perhaps its most significant, considering the number of Crescendo execs who moved into senior positions at Cisco (see Crescendo Corps Soars at Cisco).

Some Cisco watchers see the latest moves as a sign that its storage unit needed a shakeup, while others believe it is a case of an orderly transition. The Andiamo veterans, in their view, are merely riding into the sunset after completing their mission of starting a Fibre Channel switch unit.

"I don't think it signals a significant shift in strategy, although I guess people might read that into it," says analyst Greg Schulz of Evaluator Group. "I just think those guys have been around for a while; they got their packages, got their options, and it's time to enjoy life." (See Cisco's Creative Andiamo Options.)

Cisco's storage career has served as more of a dagger to Brocade Communications Systems Inc. (Nasdaq: BRCD) and McData Corp. (Nasdaq: MCDTA) than a smashing success in its own right. While Cisco has consistently grown market share, it remains far from the $1 billion unit that CEO John Chambers predicted it would become (see Storage: A Cisco Billion Dollar Play).

Cisco had 19.5 percent of the overall Fibre Channel market and 31.4 percent of the director market with a total of $65.7 million in revenue for the first quarter of 2005, according to Dell'Oro Group (see Dell'Oro Says SAN Sales Up).

But Cisco is widening its storage net to include more than Fibre Channel switches. Over the past year it has acquired two wide area file services (WAFS) companies, with its routing group scooping up Actona for $82 million and the security group grabbing FineGround for $70 million (see Cisco Chomps FineGround and Cisco Acts on Actona). Cisco has also moved into the NAS space through a reseller deal with EMC Corp. (NYSE: EMC) and acquired InfiniBand startup Topspin for $250 million in April (see Cisco & EMC Close NAS Deal and Cisco Takes On Topspin).

Ullal's new division will probably continue to grow through acquisition. According to a recent Light Reading poll, 66 percent of readers said they expected Cisco to buy up another security company next, while 17 percent said they expect its next purchase to involve storage (see Poll: Cisco's Next Move?).

"We're getting more into comprehensive data center technologies," is how a Cisco spokesman summed up the new division.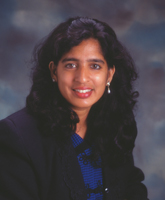 — Dave Raffo, Senior Editor, Byte and Switch