SAN FRANCISCO -- The way Juniper Networks Inc. (NYSE: JNPR) sees it, a smartphone security wave is about to break, and that's giving operators a chance to turn smartphone security into a managed service.

Of course, there's something in it for Juniper, too. The Junos Pulse Mobile Security Suite, announced this week, represents the company's attempt to extend its VPN-security franchise into a mobile market that spans enterprises and consumers.

It's also a rare chance for Juniper to put on a consumer face, so the company is trying to make a big deal of it. This week's announcement was heralded with a press event in the former San Francisco Federal Reserve building on Battery Street.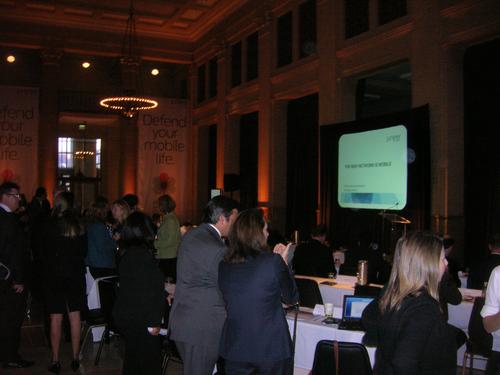 The angle for service providers, though, is that the need for smartphone security is just starting to be recognized. "If you think about how people sell security on laptops, it's not really service providers yet. Here's an opportunity for them to take control of this ecosystem," said Sanjay Beri, vice president of Juniper's Access and Acceleration business unit, in a post-event talk with Light Reading.

The features in the suite include virus and malware protection, being able to wipe the phone if it gets lost (remotely backing up the contents first), and parental controls. (See Juniper Moves Into Mobile Security.)

The suite is available on Android, Blackberry, Symbian, and Windows Mobile phones now, with Apple Inc. (Nasdaq: AAPL) iOS support to come in the first half of 2011. (Junos Pulse is already available on the iPhone for things like VPN access; it's just the Mobile Security Suite that's in the wings until 2011.)

There's an obvious consumer angle here; nearly every speaker made note of the parental-control possibilities. But the enterprise might be a larger target for the moment, given Juniper's Netscreen franchise there.

IT groups are faced with the security holes created by employees using personal smartphones to access corporate networks. Juniper has found that 81 percent of smartphone owners have used the devices to access their employers' networks without permission; 59 percent do it daily.



For mobile operators, this opens the possibility for mobile security to become a service. "This is not about cost. This is about monetization and adding... services that are new to the market," said Mark Bauhaus, executive vice president of Juniper's Service Layer Technology business group.

The poster child for this approach is going to be BT Group plc (NYSE: BT; London: BTA). The carrier first started offering antivirus software and consumer firewalls in 2007 -- for free -- and it did so using software from SMobile, the company Juniper acquired in July. (See Juniper Buys SMobile.)

In making those features free, BT was looking ahead to enterprise demand, said Marc Patterson, general manager of BT's mobile data services group. The consumers that it helped in 2007 became power users later, helping bring their companies into the smartphone age -- and BT wanted those not-so-free enterprise services to be cut from the same cloth as its consumer features.

"We've recognized, in the consumer and the enterprise space, the need for common capability," Patterson told Light Reading after the presentation.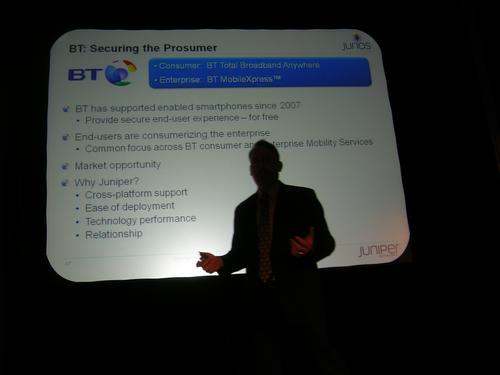 Patterson wouldn't discuss the timing of Pulse-enabled security features. They'll come in waves, he said, with much of the activity not likely to arrive until 2011. Much of Juniper's mobile security offering comes from SMobile, a company that started off doing mobile security software in 2003 but later made its name in management software -- the ability to wipe a lost phone, for instance.

In broadening its security offerings, Juniper will go up against established names like F-Secure Corp. and McAfee Inc. (NYSE: MFE). Juniper's advantage, Beri claimed, lies in having integrated SMobile's software into Junos pulse, creating a package that's more thorough than other firms' offerings and combines features like VPN authentication with device security.

— Craig Matsumoto, West Coast Editor, Light Reading