Comcast Homes In on Security Services
Comcast Corp.
(Nasdaq: CMCSA, CMCSK) has introduced a home security service in Houston, a move that could allow the MSO to add more recurring revenues and make it a competitor to traditional security providers like
ADT Security Services Inc.
Depending on the package, Comcast's service provides traditional home security functions that issue alarms when door or window sensors are tripped, but also paves the way for several more advanced options, including remote access to home lighting and climate controls and video monitoring using PCs and mobile phones.
An application for the service, dubbed Xfinity Home Security, is available on the
Apple Inc.
(Nasdaq: AAPL) iTunes store, indicating that it's currently only available to Comcast customers in Houston.
The MSO has also developed a special
Website
that spells out the product in more detail, breaking it down into two tiers -- "Preferred" and "Basic."
The site doesn't going into great detail about pricing on the home security service, but it's apparent that the Basic package does not include access to the service's full suite of mobile access applications, which include the ability control lighting and the home's heating and cooling systems with a smartphone. Both packages, however, include some mobile components, including one that allow customers to remotely arm and disarm the home security system.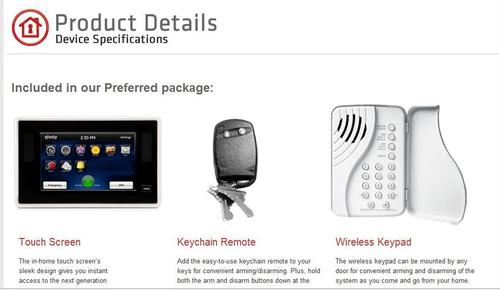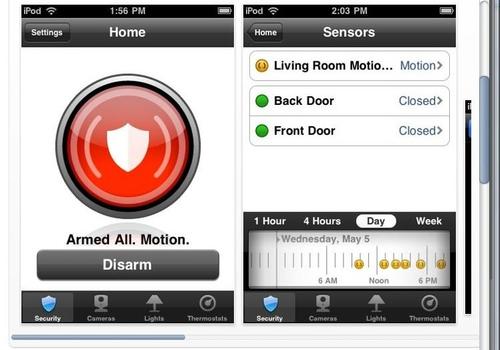 Beyond those packages, Comcast also lists out several optional home security and monitoring products that can be purchased separately, including IP-based video cameras and thermostats, as well as smoke and carbon monoxide detectors.
There's no mention of any vendor partners, but it's likely that
Icontrol Networks Inc.
is the primary one that's involved. Last year,
Comcast Interactive Capital
joined
Cisco Systems Inc.
(Nasdaq: CSCO) and others in a $23 million Series C investment in the Palo Alto, Calif.-based remote home management firm, which was founded in 2003. (See
Comcast, Cisco Invest in iControl
.)
A source tells
Light Reading Cable
that
Time Warner Cable Inc.
(NYSE: TWC) is also testing a similar service in Syracuse, N.Y.
Update:
A Comcast official acknowledged late Monday that the MSO is "trialing" the service in Houston, but declined to discuss vendors it's using or where or when Comcast will introduce it next. Also, the current pricing and packaging for the home security product is specific to the Houston deployment, so both may change as Comcast introduces it to new cities.
Familiar ground
This isn't the first time Comcast has invested in the home security sector. In 2000, Comcast, along with
Cablevision Systems Corp.
(NYSE: CVC),
Charter Communications Inc.
,
Rogers Communications Inc.
(Toronto: RCI), and
Shaw Communications Inc.
, poured millions into Austin, Texas-based
Security Broadband Corp.
In 2002, Comcast and Cox agreed to begin "limited marketing" of Security Broadband's "SafeVillage" system. Cox also completed an alpha trial of Security Broadband's system in 2001 that involved about 100 homes. Security Broadband has since changed its focus to mobile healthcare products.
— Jeff Baumgartner, Site Editor,
Light Reading Cable
PARTNER PERSPECTIVES
- content from our sponsors