Comcast Beefs Up PC Security

Comment (0)
6:00 PM -- Following a years-long effort,
Comcast Corp.
(Nasdaq: CMCSA, CMCSK) has launched a "comprehensive security program," that aims to protect its high-speed subs from bots, viruses, and other malicious Internet security threats. (See
Comcast Offers PC Protection
.)
Comcast's leading off that effort, collectively called "Constant Guard," with a new
security-focused Web portal
that offers security software and tools, including
McAfee Inc.
(NYSE: MFE)'s Internet Security Suite, and keeps subs apprised of the latest Web threats. It's also created a dedicated Customer Security Assurance (CSA) team.
In tandem, Comcast's testing out an in-browser notification "Service Notice" in its Denver system that alerts subs when it appears that their PCs have been infected with a
menacing bot
or virus. The app also directs those subs to an "Anti-Virus Center" to help them remove the badness.
I'm in Denver and on Comcast's high-speed Internet service, and I haven't seen such an alert yet, so I must be in the clear… for now. But here's an example of what it would look like if the MSO was aware that my computer was infected with malware, or something worse: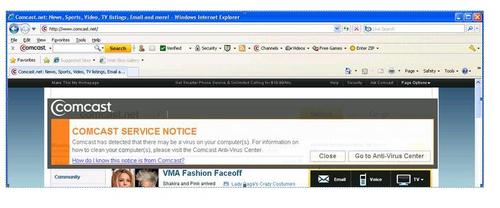 Comcast confirmed that it's not offering the in-browser alerts through third-party partners such as
PerfTech Inc.
or
Front Porch
, but noted that its team developed it through the primary use of open-source software. Comcast's approach, which does not use deep packet inspection (DPI) technology and is somewhat specific to Docsis-based networks, is explained in detail
here
.
— Jeff Baumgartner, Site Editor,
Cable Digital News