Educating the masses
Because of the service's historical all-you-can-eat model, most cable modem customers probably aren't aware of how much bandwidth they're consuming, largely because they haven't had to track their own usage until now. And, for most customers who are subject to these new policies, they still won't have to worry much, because they'll be safely under the threshold.

But, in preparation for policy enforcement, Rogers has been keeping all customers up to speed on their usage, informing users about their monthly data download volumes, how it lines up with their existing tier of service, and, if they're above the limit, how much they would be charged under the upcoming billing plan.

Rogers has also launched a micro-site to demonstrate what a customer could expect to do before encroaching on the consumption thresholds. Those on the flagship Express tier, for example, could expect to download 15,400 songs or 15 "high-quality" movies without exceeding the cap. The MSO has also introduced a Web-based tool that allows registered customers to track their usage at any given time.

Rogers is using an electronic bulletin system from PerfTech Inc. that notifies customers when they have reached 75 percent and 100 percent of their monthly allowance. Rogers and the vendor insist the bulletins do not interfere with Web sessions, but customers can opt out of them if they wish. The opt-out rate to date is less than 10 percent.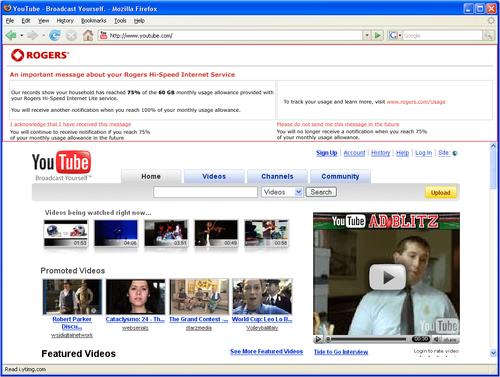 "Quite frankly, not all customers really know or understand what consumption is all about, so we have to step up that notification," Hartling says. "We've taken quite a few steps from a communications perspective to inform customers."

Although there's been a strong, negative reaction to Time Warner Cable's test in Texas, mostly based on the MSO's relatively small caps, Rogers believes it has taken the steps necessary to avoid a big backlash.

"I think you get the reaction you plan for," Hartling says. "Coming into the period we start billing, we're quite comfortable that we've done the right things to inform and educate customers and that customers are quite well prepared."

Rogers won't say what percentage of its customers routinely go over the established usage allowances, but it's more than likely the carrier knows who they are by now. "They [the power users] kind of get it. It's really the masses that we're aimed at in terms of our strategy," Hartling explains.

— Jeff Baumgartner, Site Editor, Cable Digital News