Policy control was introduced into public network infrastructure primarily as a means of traffic and congestion control, but it is increasingly being used to develop personalized services and user-centric pricing and charging models that will enable service providers to generate new revenues, according to a Light Reading Webinar, "Putting the Customer First: Policy Gets Personal."

"In essence, what we see is that policy management moves from its traditional role of bandwidth management and control to a more offensive role of new maximization" of services and revenues, says Ari Banerjee, Heavy Reading senior analyst.

In order for policy management to serve a lynchpin role in service personalization, however, service providers need to use policy in a new way and work to integrate it with back-office operations and support systems and with other functions such as charging.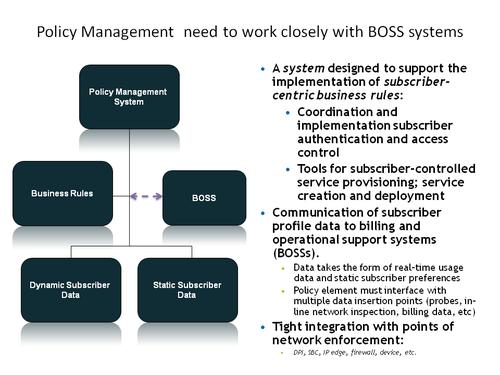 "If we sit down and talk with service providers today, network-based policy is fairly widely deployed but in a very fragmented way," says Kipp Gearhart, director, Business Development & Alliances, for Comptel Corp. (Nasdaq, Helsinki: CTL1V), the software company that sponsored the Webinar. As service providers move from multiple types of networks to an all-IP infrastructure, they also need to centralize the policy function so that it can be a network-wide resource.

"There have been many attempts to try to use network-based policy to drive personalization, but they have been fragmented over many types of networks and technologies," Gearhart says.

Banerjee says Heavy Reading research shows that the most popular options service providers are considering for policy controls are one-time data passes, which let customers dynamically sign up for data service; shared service tiers, which allow third parties to purchase guaranteed quality of service for their applications; tiered service packages, which base pricing on allotted bandwidth, time of day, or other usage metrics; and premium priority services, which guarantee a level of quality no matter what network congestion exists at the time.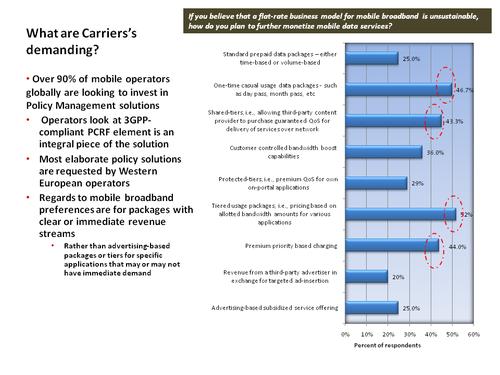 To use policy controls effectively, service providers need to have the intelligence to be subscriber-aware and have a strong focus on the customer and what it takes to preserve customer satisfaction and the margins on services that service providers need, he adds.

"The IP transformation is delivering fundamental change," Gearhart says. "It is becoming a lot more challenging for service providers to manage this delicate balance of driving top-line revenues and keeping the customer satisfied, while still monitoring bottom-line costs. We found that policy control does become something to look to as a platform, to manage this delicate balance. It can help play a role in orchestrating and managing these services."

Among the customer-centric functions that policy can enable are greater control of usage and billing to avoid bill shock and implementation of usage and service policies that can limit how employees or minors use broadband services, Banerjee says.

Comptel was able to work with a Latin American wireless operator, which was losing high-ARPU postpaid subscribers to cheaper prepaid services, to help the company design a service that combined the best of both types of offering. Customers could define a fixed monthly balance for postpaid services and, when that threshold was hit, they would become a prepaid customer for the rest of that month, but retain all the features of their postpaid service, Gearhart explained. The service could be refined so that subscribers customize their own service by designating how much of what kind of service -- voice or texting -- they want. Policy is then used to enforce those limits and prevent bill shock.

In Scandinavia, Comptel used policy control to help a wireless operator set up a platform to support multiple virtual network operators, applying policy to specific service packages and providing Service Level Agreements.

A North African service provider actually used policy controls to stimulate usage of under-utilized network capacity and of new services, using dynamic campaigns that allowed mobile broadband users to burst to higher speeds during non-peak times, Gearhart says.

And Comptel has proved the ability of policy controls to enable cloud-based services to be turned up or expanded to meet surging demand, showing how service providers "can start to implement policy to do more customer-centric use cases," he says.

As service providers are evaluating policy control vendors, they are looking for those who have experience with other service providers in the policy arena, says Banerjee, as well as for good prices, interoperability, and the ability to support existing 3G and emerging 4G wireless networks.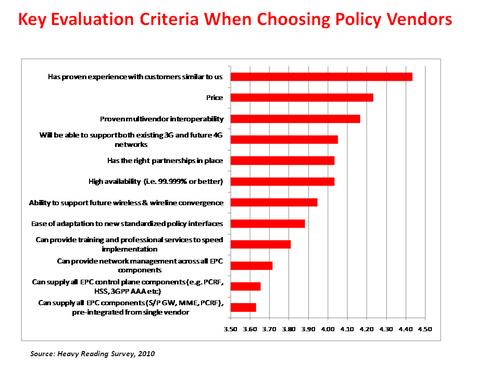 Major impediments to deployment of policy control to date include the need for integration with charging and billing systems, concern about costs, problems integrating with subscriber databases and an inability to implement end-to-end solutions, he adds.

"Vendors need to remove integration obstacles," Banerjee advises.

— Carol Wilson, Chief Editor, Events, Light Reading