How Much Is Netflix's Traffic Worth?
A new dashboard app from
Sandvine Inc.
tells MSOs not just how much over-the-top (OTT) video traffic they are carrying but also spells out how much revenue they're losing to emerging video competitors like
Netflix Inc.
(Nasdaq: NFLX) and
Apple Inc.
(Nasdaq: AAPL)
Sandvine's Real-Time Entertainment Dashboard uses deep-packet inspection (DPI) to track streaming audio and video traffic from those OTT sources, going as far as quantifying the quality of the video experience and how long customers are viewing those streams.
Sandvine, says CTO Don Bowman, can also use this data to give its carrier customers a ballpark idea of the amount of revenue associated by the adoption of over-the-top services. For example, it can determine how many customers are using Netflix or
Spotify
streams and multiply that by the monthly subscription fees they're paying those companies, or calculate about how much iTunes is making with its online movie rentals.
"It gives [MSOs] an idea of the commercial value of their network," Bowman says. "Carriers are interested in how many dollars are being exchanged over their network, and how many are paying a premium for Hulu or paying Spotify."
While this could be filed in the good-to-know category if data suggests that Netflix is attributing to the decline of MSO basic cable or VoD revenues, Sandvine insists it goes deeper than that, able to judge streaming video quality that a given content delivery network (CDN) is achieving. It claims its system knows, for example, when a video is buffering, stalling or switching to a lower-resolution stream if adaptive bit-rate technologies are in play.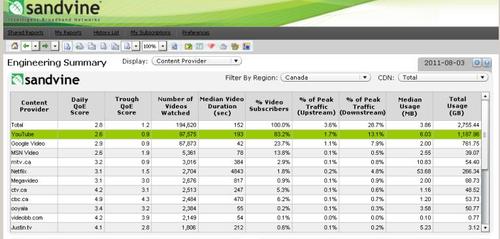 That sort of info comes in handy for carriers that are investing in CDNs or building their own – the sort of thing
Alcatel-Lucent
(NYSE: ALU) is pitching with its AppGlide Video Analytics system. Now they can point fingers if it appears that a CDN is under-investing or somehow cheating the routing rules. (See
AlcaLu Gets Down With OTT
.)
"That data becomes part of the negotiation when they try to get Netflix to host on their CDN," Bowman says, noting that Sandvine's system can apply a mean opinion score for the perceived video quality being provided by a given CDN.
Staying ahead of the bandwidth curve
Another benefit is it helps operators keep tabs on how much bandwidth OTT is devouring and give them a sense of future growth trends. Until 2009, operators could count on a 30 percent to 40 percent increase each year, but they've been facing annual increases of 60 percent and 80 percent over the past two years as Netflix traffic went gangbusters. (See
Netflix: The Internet's US Traffic King
.)
Operators "are also worried about the next phase: multiple [OTT] streams to the home," Bowman says. "They've been getting a handle on a single stream to the home, sometimes in HD. They're now facing multiple HD streams."
Among recent examples, Netflix tweaked its policy so all customers, no matter the subscription level, can stream to at least two devices at the same time.
That will not just get expensive but cause operators to dedicate more Docsis capacity per user, perhaps as much as 10 Mbit/s to 12 Mbit/s just for OTT video.
Sandvine hasn't named any commercial customers for the new dashboard, but it started beta testing this summer. Some notable Sandvine customers include
Comcast Corp.
(Nasdaq: CMCSA, CMCSK), which happens to be building a CDN,
StarHub
and
Liberty Global Inc.
(Nasdaq: LBTY). (See
Comcast's 'Project Infinity' Takes Flight
.)
— Jeff Baumgartner, Site Editor,
Light Reading Cable
PARTNER PERSPECTIVES
- content from our sponsors