I met with James Dirksen, VP business development, Procera Networks, over Thai food to discuss the company's DPI software, and get some hot sauce tips. (Or was I meant to get some hot source tips? Hmmm...)
The Technology
Procera Networks makes PacketLogic deep packet inspection software to help carriers improve customer experience. The company's software runs on commodity, off-the-shelf (COTS) hardware, such as Dell Technologies (Nasdaq: DELL) servers, and is designed to help mobile carriers and cable providers manage quality of service. Competitors include Allot Ltd. (Nasdaq: ALLT) and Sandvine Inc.
PacketLogic accounts for more than 90% of Procera's business. Dirksen is responsible for the Network Application Visibility Library (NAVL), a software library that other vendors can integrate to gain DPI capabilities. For example, a firewall might include NAVL to control network traffic not just based on ports but also on apps. Vendors and carriers can also run NAVL remotely.
One NAVL customer is Aerohive Networks Inc. , which provides campus wireless access points and uses DPI to monitor congestion. NAVL generates about 7%-10% of the company's sales.
Dirksen joined Procera in January. Previously he worked on OEM deals for Symantec Corp. (Nasdaq: SYMC) It was a similar job to the one he's doing with Procera, working with partners to embed Symantec software in other products.
---
Light Reading's packet inspection/traffic management channel isn't too spicy or too mild -- it's just right.
---
Are NAVL and PacketLogic examples of NFV? It sounds similar -- offering software capabilities previously available as hardware appliances. "We are in the middle of getting ahead of that," Dirksen says. PacketLogic has been released as an NFV product, in customer trials. NAVL also has NFV customers, but Dirksen says he'd like to see more testing and certification.
The Restaurant
The restaurant I suggested, Spices Thai Cafe, turned out not to be the place I was thinking of. I was thinking of the Spice's in the Mira Mesa section of San Diego, Calif. We ended up at the Spice's a few miles away, in Del Mar. They're owned by the same people. Both restaurants are located in shopping centers in San Diego's sprawling office park region, and they're popular with the business lunch crowd. Both places are bright, airy, clean and well lit.
We each ordered the curry -- Dirksen had the green curry, I had the red. Dirksen ordered the full lunch, with a little bit of salad and a spring roll and rice and stuff. I just had a big bowl of curry with a bowl of rice.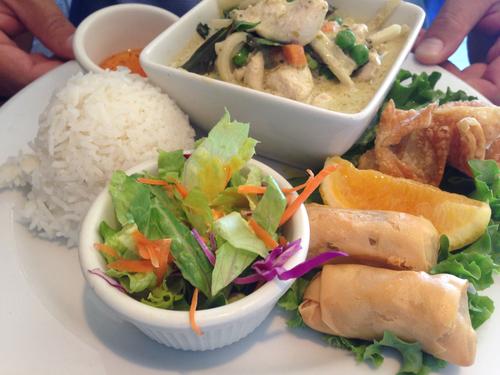 We both agreed the food was delicious but we each said we ordered the wrong spiciness. I ordered 3 on a scale of 10, and wished I'd ordered a 4. He ordered the 4 and wished he'd ordered the 3.
I confessed to recently becoming addicted to Sriracha sauce. Dirksen agreed Sriracha is outstanding, and also recommended Tapatio, a popular Mexican hot sauce, along with another whose name he couldn't quite remember but he said it was from Belize. I Googled later and I think it was Marie Sharp's.
This was not my first meeting with Procera. I met with them at Interop in March. They were giving away free iPad styluses at their booth. They looked cheaply made, but they were comfortable to hold and worked well with the iPad. I loved mine. Minnie, the Light Reading West Coast Bureau Puppy, loved the stylus too. She thought it was delicious. (See Interop in Pics: Connecting Besiness Opportunition.)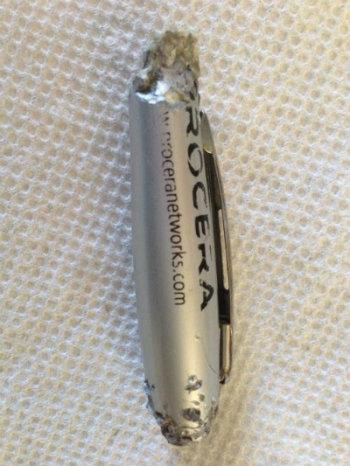 More about Procera:
Look out for further gut-busting "Lunch With..." blogs in the coming weeks and months.
— Mitch Wagner,

, West Coast Bureau Chief, Light Reading. Got a tip about SDN or NFV? Send it to [email protected].