A little-known startup is taking on the deep packet inspection (DPI) world with a chip that, it claims, could make high-end inspection cheap and fast enough to distribute throughout the network.

cPacket Networks Inc. already sells Gigabit Ethernet products, but its real pride and joy is a 20-Gbit/s chip launched this week, just in time for the Interop tradeshow. (See CPacket Targets DPI.)

In the long run, founder and CEO Rony Kay sees distributed DPI as a function of networks that are self-regulating, like biological entities (preferably ones that don't ooze anything).

But that's a long, long way off. For now, cPacket is happy just to sell its chips out of a spartan Mountain View, Calif., office that houses most of the company's 22 employees.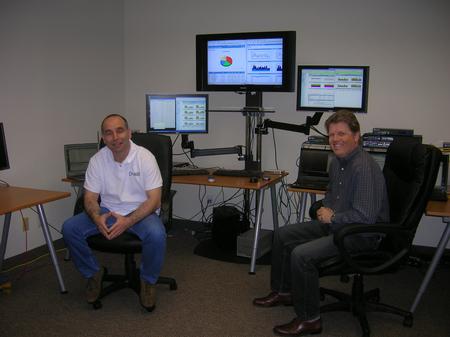 Things weren't even this luxurious at the start. Kay started cPacket in his bedroom in 2003 after quitting his job as a middle manager in the enterprise platform group at Intel Corp. (Nasdaq: INTC). First employee Matt Rosenthal (now senior R&D engineer, and pictured in the mini-slide show linked above) drove from Carnegie-Mellon University in Pittsburgh to join Kay's non-army just before Christmas of that year.

It's a familiar kind of Silicon Valley startup tale. Kay had come up with his idea for distributed packet inspection while at Intel, but amid a brutal telecom downturn, he couldn't get an audience.

"People were afraid to take radical and aggressive approaches like this," he says. Kay recalls the approach being called "megalomaniacal."

So he quit to try startup life. Given the tough economy, he says he didn't even bother pitching to venture capitalists.

Entrepreneurship turned out to be riskier than Kay had expected. "I didn't know Intel stock would continue to go down," he says. (Intel shares reached a relative peak in January 2004 and haven't gotten back there since.)

CPacket still hasn't tapped venture capital, having gotten by on angel funding and money from one software vendor that wasn't given a seat on the board. Kay won't reveal the total amount, saying only that it's "not as much as you would think."

Kay's prized idea was to craft a new pattern-matching algorithm to examine every byte of every packet, like an assembly line, at tremendous speed –- 20 Gbit/s now, and 100 Gbit/s later, Kay claims.

Then, cPacket built a chip that runs this algorithm in hardware. Running something in hardware can make it go faster than the software alternative (which involves programming the software onto a microprocessor). And the algorithm's assembly-line nature means each packet takes a predictable amount of time to examine.

Kay calls the process "complete packet inspection," because it dissects the entire packet. He says deep packet inspection, by contrast, tends to look at just the packet payload, not necessarily doing header classification.

CPacket is a chip company at heart, but the startup also offers software tools for telling the chip which strings to look for –- specific URLs, or virus-like markers, for instance, or maybe particular types of traffic, such as peer-to-peer (P2P) streams. Then, the chip can take actions such as dropping certain packets or forwarding them into quarantine areas.

Potential customers (or competitors) doing DPI aren't yet sure what to make of cPacket. Until this week, the startup's Website only mentioned Gigabit Ethernet products -- not exactly a threat to the likes of Allot Ltd. (Nasdaq: ALLT), Ellacoya Networks Inc. , Sandvine Inc. , and Procera Networks .

Ellacoya uses similar packet-processing chips in its own boxes, but says the equipment's real selling points revolve around factors such as carrier-grade reliability. Sturdy analysis of traffic is necessary, too, says Fred Sammartino, Ellacoya's vice president of marketing and product management. For example, some types of traffic can't be discovered without examining the back-and-forth exchange of packets in a particular session, he says.

"That type of shallow packet inspection, just looking at the bits, is just a small component of the system we provide," Sammartino adds.

Moreover, the software side of packet inspection has to be in constant flux. CPacket can show that its software rules are easily changeable, but the number of changes required could get hefty, especially when chasing down worms or viruses designed to mutate and avoid detection. "The nature of dealing with evasive applications is that it's very dynamic," says Tom Donnelly, executive vice president of marketing for Sandvine.

While cPacket wants to be a chip play, possibly selling to other DPI vendors, it's providing some customers with a small system, one rack unit high. That box is intended to be cPacket's reference design, but it's also the easiest way to get some carriers to try the technology.

The 20-Gbit/s chip and its reference design are already shipping, joining the Gigabit Ethernet products that have been cPacket's main source of revenues.

— Craig Matsumoto, West Coast Editor, Light Reading