CSG Systems International Inc. (Nasdaq: CSGS), a company known for billing and customer care systems, is expanding its horizons with a platform designed to help studios and other content owners turn the Web into a moneymaking machine.

Offering more proof that activity occurring within the OSS and billing sector isn't a yawner after all, CSG is targeting that platform, dubbed Content Direct, not only to content providers, but also to cable operators, telcos, and just about every other segment that wants to deliver video over IP... and get paid for it.

CSG's ambitions start with advertising- and subscription-based video services delivered via the PC, but will extend to mobile environments, as well, according to Kent Steffen, CSG's vice president of content initiatives.

But aren't companies like Brightcove Inc. already doing this sort of thing with online video? Perhaps, but CSG's approach, according to Steffen, is going after a larger market that also encompasses live pay-per-view events and subscription-based fare delivered via speedy broadband connections.

The idea, he says, is to create a platform "that is flexible enough to support the different business models on the Internet."

The billing and OSS specialist is manifesting this into a video player product powered by Microsoft Corp. (Nasdaq: MSFT)'s Silverlight platform and coupled with CSG's own commerce and application layer. CSG is pitching Content Direct to syndication partners and attempting to embed its player into consumer-centric sites operated by Microsoft, Yahoo Inc. (Nasdaq: YHOO), and AOL Inc. (NYSE: AOL), as well as to social networking arenas such as Facebook . On the ad side of the fence, CSG is already a DoubleClick Inc. reseller.

Because Content Direct is embedded, consumers can click on the player (or the video-enabled ads), browse for something, and even complete a purchase or transaction without leaving the primary Website that's hosting the ad or promotion.

"For the content owner, this offers a consolidated way to take your infrastructure and advertising and push that out to other sites and social networks out there," Steffen says. "With this player, [the content owner] can control the branding and experience of its content and embed it into [CSG's] distribution partner sites."

CSG's first real life example of this occurred in April when when National Lampoon used Content Direct to market the film One, Two, Many.

Under that three-week campaign, consumers who clicked on those Content Direct-powered banner ads "rolled out" the player, which offered a preview of the film and, thanks to a transaction wizard, allowed them to purchase the physical DVD -- without leaving the site that was hosting the original ad.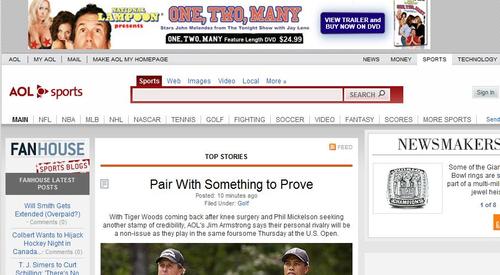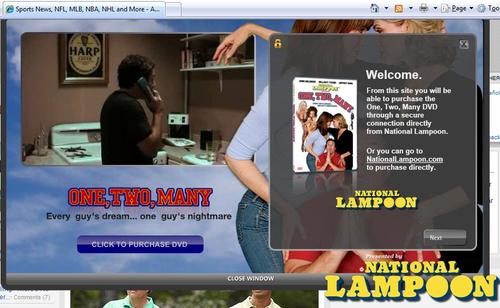 Steffen called the campaign a "success," noting that National Lampoon was able to obtain some "real metrics associated with the ad spend," but wouldn't say how many sales were actually driven by CSG's platform. National Lampoon, however, does plan to use Content Direct to support some future marketing projects, he said.

In addition to selling DVDs, the transaction capabilities of Content Direct could also allow content owners to use these "transactional display ads" to sell and stream titles under a video-on-demand/pay-per-view model. "We think video will become the anchor, but there's a lot of context to build on top of that to build your brand," Steffen says, noting that Content Direct operates under a revenue-sharing model.

So far, National Lampoon was the first to publicly announce its use of Content Direct, though others already have the system in trials or production, including some sports networks, which plan to use Content Direct to promote and sell live and archived events.

Cable MSOs that are starting to get into the Internet video game offer yet another potential target for Content Direct, because CSG already has customer care and billing relationships with several of them... so much of the initial integration work would already be completed.

Comcast Corp. (Nasdaq: CMCSA, CMCSK), which happens to be a CSG customer for billing and customer care, isn't using Content Direct yet, but Fancast, the MSO's Internet video hub, is a possible candidate, at least in terms of how Fancast and its library might be promoted and advertised on other Websites. More recently, Fancast complemented its ad-supported streaming service with a transaction-oriented download offering. (See Fancast Does Downloads.)

"Everyone is trying to stake out their area in this distribution chain," Steffen says.

— Jeff Baumgartner, Site Editor, Cable Digital News