12:30 PM -- DUBLIN -- Management World 2011 -- After three days in Dublin, the general consensus was that this year's Management World had survived its geographic shift from the French Riviera to Ireland intact, despite advance reservations of some regular visitors (including EuroBlog).

The keynote speeches and sessions were well attended, the show floor was generally busy and there were plenty of interesting folk to chat to. And there were some decent off-diary conversations to be had too. But the feedback Light Reading collected wasn't all positive.

The main gripes were:


The weather. Not so important, one might think, but many people said Nice was a much better location to entertain customers, whereas Dublin has been somewhat windy, a bit cool and occasionally wet. (See

Mgmt World:

Obama's Blustery Day.)


The power supply to the Catalyst projects that show off specific applications vendors and service providers have been working on together. Those projects were housed in a compact two-story construct in the middle of the exhibition show floor. But the number of servers seemed to be too much for the electricity supply on day one, when the Catalyst teams suffered eight power outages, causing all the servers to shut off and then reboot during presentations.


A number of exhibitors, including Ericsson AB (Nasdaq: ERIC) and JDSU (Nasdaq: JDSU; Toronto: JDU), were housed in tents across the road and down river from the main event site, meaning they got no passing traffic. It was a bit lonely, and breezy, down there...

But overall, the mood was positive. There were, according to organizer TM Forum , about 3,500 people at the show, up 15 percent from last year, with a 30 percent increase in visitors/participants from North America and a 60 percent increase in visitors/participants from Asia/Pacific. That means, though, that some geographies were less well represented: We certainly noticed a lack of people from the Middle East and Africa.

Exhibitors were generally happy with the quality of the people on the show floor, though many wished they could transpose the Dublin Convention Center to the French Riviera to get the best of both worlds.

And there was good coffee to be had, even though our favorite barista, Daisy Rollo, was not hired for anyone's stand this year. Hot beverages of an almost equal quality were, however, available from Coffee Angel, to be found across the road from the show on the banks of the River Liffey.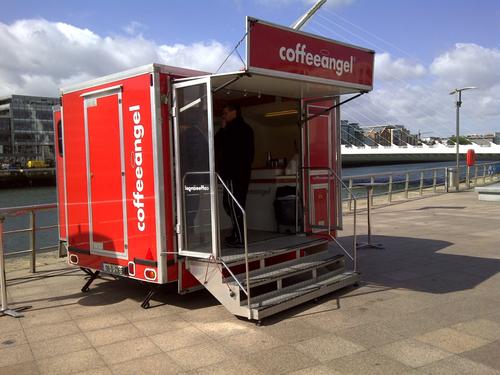 The show is coming back to Dublin next year, and I don't think that will put off anyone who came this year. Given the importance of the topics under discussion at Management World –- the creation and assured, secure delivery of revenue-generating service and applications –- I imagine everyone will be back next year and joined by others.

— Ray Le Maistre, International Managing Editor, Light Reading