Along with their fixed line and cable operator brethren, mobile operators, with few exceptions, are known for their poor customer care. New industry research suggests they are a long way from truly addressing what should be a priority issue.
According to the results of a survey commissioned by French network monitoring and analytics vendor Astellia , there is a significant disconnect between the customer care expectations of mobile subscribers and the ability (and willingness) of mobile operators to respond to problems. Not surprisingly, almost 50% of the 2,000 consumers in six countries who took the survey are unhappy with the level of customer service they receive from their mobile service provider. (See EuroProfile: Astellia.)
Astellia's press release and infographic (below) highlight lots of areas where mobile operators, more than 40 of which were surveyed, are lacking. (See Astellia Unveils Customer Care Research Results.)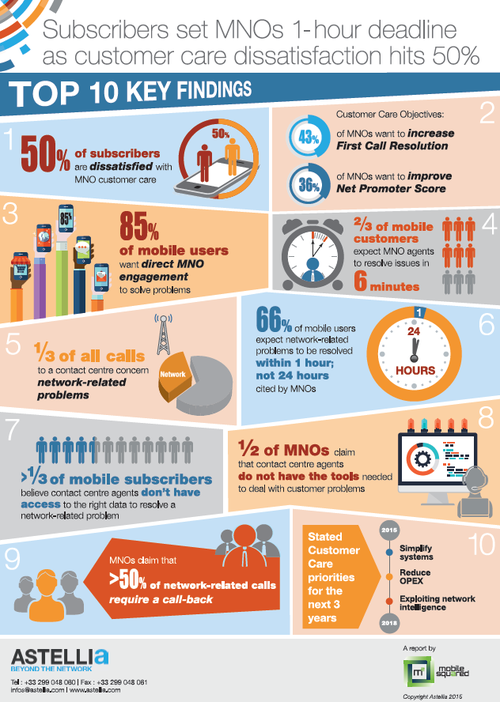 Most striking is the statistic related to the speed at which network-related problems should be resolved:
66% of subscribers expect a network-related problem to be resolved within 1 hour. Only 28% of consumers are prepared to wait up to 24 hours. This contrasts starkly with the findings from the MNOs themselves, the majority of whom believe their customers will wait up to 1 day for network problems to be resolved, and a further 26% expecting their customers will wait up to 3 days.
That's a remarkable difference but maybe some operators need days to figure out what might be disrupting their network. But surely they have troubleshooting tools to identify network problems?
Astellia's chief marketing officer, Cedric Arnaud-Battandier, says they have plenty of tools but often too many that are uncoordinated and being used by different parts of the mobile operator's organization. "There is a lot of complexity -- they need simplification," he states.
---
Want to know more about customer care issues? Check out our dedicated customer experience management content channel here on Light Reading.
---
As you'd expect, Astellia, which boasts more than 200 mobile operator customers, is ready and willing to offer such simplification with its monitoring and analytics tools that gather data from the network, analyze it and present information in ways that can be customized to an operator's needs. "It's not about big data, it's about the right data," he notes.
Included in the Astellia toolbox is a program that enables operators to identify customer sets based on their services/applications/data usage -- "smart segmentation" the CMO calls it -- rather than by their billing data or subscriber information. That is opening doors within mobile operators beyond the network optimization team that has been the traditional touch point within the carriers for Astellia: Now it is talking also with customer experience and marketing teams.
Arnaud-Battandier notes that some operators, in an effort to improve customer satisfaction levels [Editor's note: Something they have been talking about since 1876], are forming specific teams that are responsible for the management and dissemination within the operator of "actionable" information gleaned from such tools, citing Belgium's BASE as an example where Astellia's technology is involved in that process.
So maybe mobile operators are finally starting to act on their promises of investing people, time and money into developing better customer experience management strategies. As they do, though, Astellia won't be alone in competing for those dollars and euros, as big name rivals such as JDSU (Nasdaq: JDSU; Toronto: JDU) (soon to become Viavi Solutions) and Tektronix Communications , which is in the process of being acquired by another rival, NetScout Systems Inc. (Nasdaq: NTCT), are chasing the same business. (See Let There Be Lumentum! JDSU Names Its New Empire, NetScout to Buy Danaher's Comms Unit and 10 SPIT Vendors to Watch in 2015.)
— Ray Le Maistre,

, Editor-in-Chief, Light Reading