Quantifying Cloud
7:30 AM -- Be prepared to hear these figures repeated ... well, repeatedly.
Cloud traffic will grow 12-fold by 2015, to reach 1.6 zettabytes. That's a compound annual growth rate of 66 percent between now and then. (See
Cisco Sees 12-Fold Cloud Growth
.)
Those are the most dramatic figures in
Cisco Systems Inc.
(Nasdaq: CSCO)'s new Global Cloud Index, announced this week. Like Cisco's
Visual Networking Index
, this latest index will be conducted annually, drawing on analyst reports, Cisco's own study of data center and network traffic to produce growth estimates that will then be cited by media people like me, and will show up in every presentation you're likely to see on cloud within the next year.
I guess we can think of this as Cisco's early annual Christmas present to the telecom industry.
When you open the package you'll see slides like this: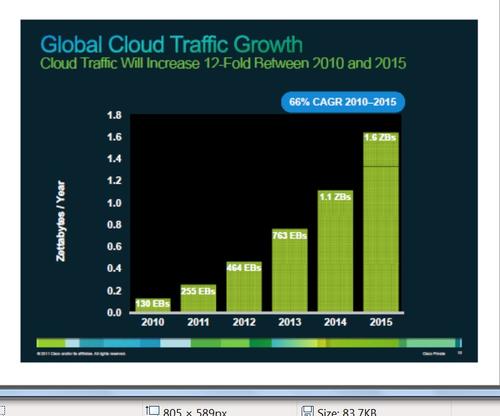 And this:
These will be used repeatedly as well to make the point that cloud is big and getting bigger. So get used to it.
That's not why Cisco did this, of course -- its stated intent is to help its customers prepare their networks for what lies ahead. And the major message there is that bandwidth requirements between data centers will increase at the greatest speeds, but the need for more ubiquitous broadband will also continue to rise.
Cisco also found that no single region of the world and only a few countries -- they called out South Korea and Japan -- are fully prepared for the broadband ubiquity, broadband speed and latency requirements to support the broadest range of advanced applications such as high-definition video conferencing and advanced gaming.
North America did well on the broadband ubiquity aspect, but fell short on the speeds of its broadband service, which isn't exactly surprising to anyone who follows the industry.
Driving all this need for bandwidth is the usual culprit, video, but the real fun facts in Cisco's new GCI is the notion that three-quarters of all the traffic generated by the cloud stays in the cloud in the form of traffic passed back and forth between data centers to process, authenticate and deliver content and manage transactions that support that user network activity while only 17 percent of data center traffic is delivered to end users.
That's why the global networking focus will increasingly be on connections between data centers and how to make those connections more robust, efficient and cost-effective. Which is the upshot of this massive amount of data that we'll now see annually.
— Carol Wilson, Chief Editor, Events,
Light Reading