2:40 PM -- SAN FRANCISCO -- Cisco Live!, the annual Cisco Systems Inc. (Nasdaq: CSCO) education and training bash for customers, happens to be in my neck of the woods this year. So when the call came to come in person for CTO Padmasree Warrior's press-and-analysts chat -- a preview of her Wednesday keynote -- I took them up on it.

Cisco has an elegant, compact office in San Francisco that I'd never seen before. Turns out this is not it: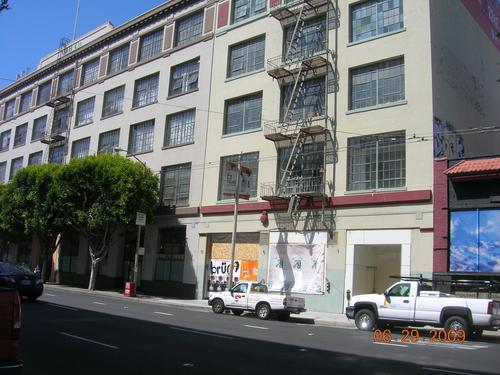 We'd been given the wrong address. (That building is a real office, by the way. It looks better inside than out.) A quick call to Cisco PR sent us three blocks up 3rd Street, to a 6th floor space near Moscone Center.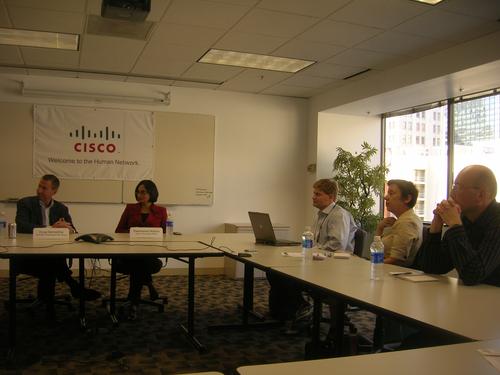 Much better. About nine of us were attending in person, with many more listening in via WebEx. Cisco had no specific announcements to share, but Warrior did outline the company's thinking around cloud computing and preview the topics she'll discuss at the keynote.

Cisco, of course, intends to sell the equipment that makes up the cloud. Preferably, the company would like that sale to be a package that goes deeper than switches and routers, into blade servers of Cisco's own making. (See Cisco Dreams of Data Center Unity and Cisco Beckons Carriers to the Cloud.)

Longer-term, though, Cisco's role in cloud computing will include the "Intercloud," a federation of clouds linked together much as networks link together to form the Internet. Cisco wants to be the networking cog of the Intercloud, and that means getting into orchestration, the ability to virtually move a server to a different part of the cloud or to a different cloud altogether.

"That's something we feel we need to be able to do. It's about: How do I move from point A to point B without causing disruption?" Warrior said. Her keynote will include a demo of what's possibly to come.

Orchestration would up the ante against HP Inc. (NYSE: HPQ), which introduced new orchestration software earlier this year, and against IBM Corp. (NYSE: IBM) as well. Cisco already has a kind of orchestration software -- VFrame DC, introduced in 2007 -- but it's not the Intercloud tool Warrior is talking about.

Warrior thinks orchestration will start out modestly, as in cases where an enterprise moves an application out of its own cloud and into a private cloud that's owned by a service provider. It sounds like Wednesday's demo will center on that case.

Ultimately, the goal is to have portability among clouds in the Intercloud. That's going to take a while. The Intercloud itself is five to seven years away, Warrior said. More enterprises have to get interested in the idea, and then the proper standards for cloud interoperability need to be hashed out.

Just as Cisco became a major provider of equipment to wire the Internet, it's hoping to be the one to connect clouds to build the Intercloud. It's an ambitious goal that matches CEO John Chambers's big talk about big potential growth for Cisco. Because of factors like orchestration, it's also a further breach into HP/IBM turf and gives those companies one more reason to look askance at Cisco.

Here's one way Cisco won't parallel HP and IBM: Warrior says Cisco doesn't want to provide infrastructure as a service (IaaS), the category that includes rented compute cycles and storage space.

IaaS is an area service providers have started to plumb, although the likes of Amazon Web Services Inc. and Savvis (Nasdaq: SVVS) have taken the lead over the telcos. (See Cisco Beckons Carriers to the Cloud.) Warrior said she expects HP and IBM to be in that business, too, but Cisco wants to avoid competing with any of those providers -- instead providing the equipment behind the cloud, and the software and platforms (WebEx and related components) that run inside the cloud.

— Craig Matsumoto, West Coast Editor, Light Reading