SAN FRANCISCO -- Yes, Cisco Systems Inc. (Nasdaq: CSCO) will sell the gear that will go into network clouds, but the real opportunity for the company might be to help connect those clouds together.

It's the first time the company has publicly explained a strategy for the really hot and really vague category that is cloud computing. Chief technology officer Padmasree Warrior made the topic a focus of today's keynote at Cisco Live!, the company's annual conference and training event for IT networking professionals.

Warrior had outlined her talk for press and analysts earlier this week, noting that Cisco wants to provide the gear that links clouds together. While the "Intercloud" (a network of clouds) is the eventual goal, the more immediate problem involves connecting companies' own networks, including clouds of their own making, with service-provider clouds. (See Cisco's Cloud Story.)

The last part is important because "many IT organizations and IT teams have already made investments in their architecture that they don't want to throw out," Warrior said. A cloud involves some level of trust, because it means the company will be using servers, software, and storage devices that are housed in someone else's network. Many enterprises are a wee bit skittish about that.

"We believe Cisco's opportunity lies in the fact that we can combine the 'on-prem' [on-premises] world and the cloud world and play a role in federating the two."

In other words, Cisco could help companies adopt cloud networking slowly. Maybe the internally built and owned cloud comes first, followed by the use of a dedicated cloud run by a service provider such as Amazon Web Services Inc. or AT&T Inc. (NYSE: T). Connection to a network of public clouds could wait until much later.

To talk about how clouds are getting used so far, Warrior brought in Joe Weinman, AT&T's head of global portfolio strategy and business development, who talked from Lisbon via Cisco TelePresence -- because you can't have a keynote without showing off TelePresence.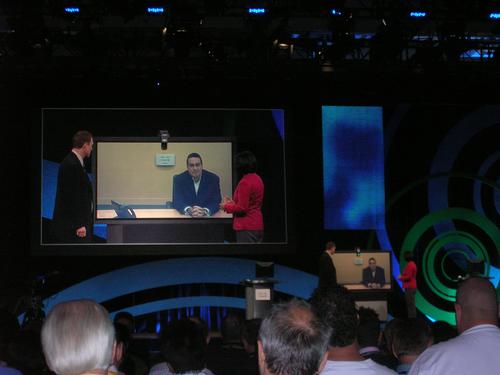 "The virtual private cloud that ties both things together -- that is the key to unlocking value," Weinman said.

Weinman sees two models for cloud usage emerging, each of them involving a combination of a company's regular network with some sort of cloud. The first would be to use the cloud for bursts of activity, where any sudden need for storage or computing would "spill over into a service provider cloud." The second involves using the cloud as a "front end," containing user applications that are supported with "back-end" software components running in the company's own network or internal cloud.

In either case, an enterprise isn't suddenly waking up at night screaming "Cloud!" Rather, IT activity increases to a point where a cloud starts to seem like a good idea. "It turns out the essential key to cloud services is to handle peaks in demand that can't be deferred," Weinman said.

He added that it's incorrect to assume companies have to use the Internet to connect to a public cloud. Any number of private networking options could be viable, including MPLS virtual private networks (VPNs) or even an old standard like Ficon. "They may not even access it at Layer 3," he said.

— Craig Matsumoto, West Coast Editor, Light Reading