Cisco Dreams of Data Center Unity
Cisco Systems Inc.
(Nasdaq: CSCO) has launched an ambitious plan to remake the data center, insisting that its goals rely on partnerships rather than on Cisco taking over the world.
Specifically, Cisco insists that the
Unified Computing System
(UCS) announced today, which spawned from ongoing research projects that Cisco calls "California," is not a server and is not meant as a declaration of war against server companies like
HP Inc.
(NYSE: HPQ). (See
Cisco: No Blade Server
.)
"We have very little interest in the product space; we're interested in how it [the whole data center] ties together," CEO John Chambers said on today's Web-hosted conference for press and analysts.
UCS turns out to be a collection of systems, including blade servers, that are meant to be treated as a cohesive whole. (See
Cisco Gets Unified
.) More on that in a bit.
The big-picture goal of Cisco's unified computing idea is to let any device access anything on the network at will -- a goal that's shared by the rest of the industry and has led to the rise of virtualization in the data center.
But Cisco says the data center's problems, such as connecting up masses of servers that traditionally haven't been used at full capacity, really boil down to networking, making (guess who?) Cisco the right company to helm a new data-center initiative.
There's something in all this for the service provider market, too. "This unified computing platform is a functional building block for our customers as they look to build private clouds... or shift that load to service providers," said Rob Lloyd, Cisco's incoming executive vice president of operations.
In fact, Cisco has announced
Savvis
(Nasdaq: SVVS) as one of the 10 beta customers for the unified computing scheme.
While Cisco did announce new products today, it spent much of its PR ink (and most of today's Web conference) on the partnerships surrounding its unified computing dream. The company is making a big deal about how the UCS blades are based on
Intel Corp.
(Nasdaq: INTC) processors and standard memory chips, for example.
Other partners announced with UCS include
Accenture
,
BMC Software Inc.
(NYSE: BMC),
EMC Corp.
(NYSE: EMC),
Microsoft Corp.
(Nasdaq: MSFT),
Red Hat Inc.
(NYSE: RHT), and
VMware Inc.
(NYSE: VMW).
As for UCS itself, the products in question were developed by the team from Nuova, the Cisco-acquired group that worked on the Nexus 5000 data-center switch. (See
Cisco Wraps Up Nuova
and
Cisco Adds to Nexus
.)
As much as Cisco says UCS is a "subcategory" of servers, as you can see in
this blog entry
, the collection of new products does include, well, blade servers.
The central piece to UCS is the 6100 Fabric Interconnect, which links everything else together on 10-Gbit/s Ethernet connections.
Cisco is also offering the 5100 Blade Server Chassis, which holds up to eight blade servers, and the UCS 2100 Fabric Extenders, which can go into the 5100s and include the unified switch fabric that was introduced with the (non-Nuova-built) Nexus 7000.
Cisco's blade servers themselves, called the UCS B-Series, are based on Intel multicore processors and include what Cisco and Intel are calling a "memory-expansion" technology that lets the server run more virtual machines. The whole package is rounded out by mezzanine-card adapters for specific applications and new management software.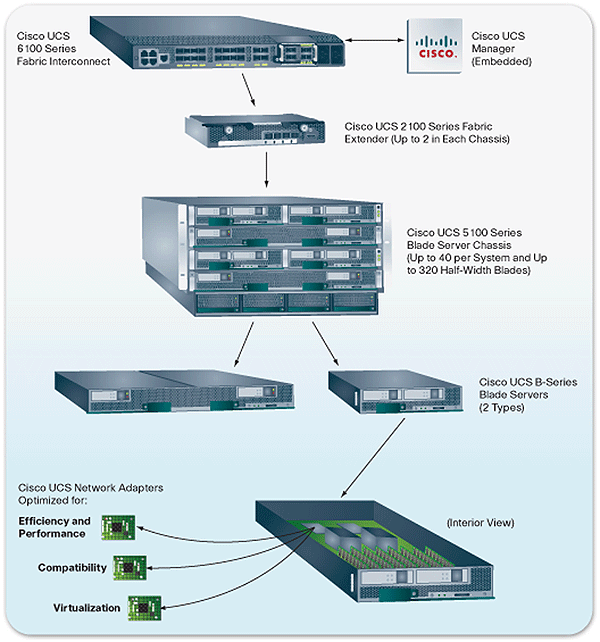 "You can't think of this as a blade or a network. It will be shipped as a system, configured as a system," Lloyd said. "That's why we don't think we're competing on a blade platform, but competing on a new system platform."
Cisco will start discussing details about how all this will get used (and, presumably, when it will be available) in April, Lloyd said.
Naturally, competitors have their doubts about the new platform.
Juniper Networks Inc.
(NYSE: JNPR) has its own ideas wrapped up in Project Stratus, its secretive project to make the data center more scalable. (See
Juniper Strikes at the Data Center
.) More immediately, Juniper has been touting the virtual chassis technology of its EX 4200 switches as a way of eliminating the aggregation layer in data centers -- something it says is lacking in Cisco's new vision.
Juniper is pitching that the access layer of a data center connect directly to the core. "The aggregation layer in new networks that are being built is 10-Gbit/s Ethernet, and the latest price-per-port for 10-Gbit/s Ethernet is $5,000, so you're talking about some very expensive ports," says Mike Banic, Juniper's vice president of product marketing for Ethernet platforms.
Brocade Communications Systems Inc.
(Nasdaq: BRCD), in a statement issued to the press, notes that Cisco's unified data center involves a lot of new equipment to buy -- an expense that Brocade says could be hard to justify even if the new architecture saves money later. Brocade also notes that many companies with "extensive experience" in the data center are already working on the problems Cisco is claiming to solve.
— Craig Matsumoto, West Coast Editor,
Light Reading
UPCOMING LIVE EVENTS
June 6-8, 2023, Digital Symposium
June 21, 2023, Digital Symposium
December 6-7, 2023, New York City
All Upcoming Live Events
PARTNER PERSPECTIVES
- content from our sponsors