This week Heavy Reading released the latest edition of the IP Network Transformation Market Tracker. And overall, while the pace continues in slow but steady mode, the news is once again positive, with clear signs of building on the momentum noted in the second half of 2010. (See VoIP Forges Ahead.)

As noted in previous tracker releases, the pace of replacing fixed circuit switch (CS) TDM end-offices with packet switched (PS) VoIP technology still differs considerably from region to region and even on a country level within regions, due to a number of factors, including incumbent operator strategies and alternative carrier market momentum.

As a result, and as shown in the figure below, while considerable progress will be made on a global basis by 2015, TDM will still have a major footprint. However, considering that in 2010 PS VoIP technology represented only 16 percent of total installed Class 5 lines, after more than a decade of deployments, the shift to 36 percent by 2015 is a clear indicator that the pace of TDM replacement is gaining critical mass.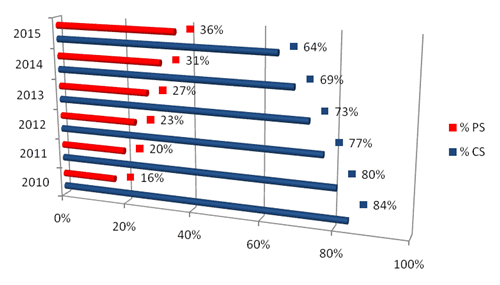 Moreover, as shown in the table below, within the next five years North America and Western Europe will witness CS TDM technology slip to less than 50 percent of the installed base. At this point, the elusive "tipping point" threshold will be reached, and the shift from TDM to VoIP as the dominant network technology will be complete.

Table 1: Packet Switch & Circuit Switch Percentage of Installed Lines, North America & Western Europe

Year End
2011
2015
North America % CS
68.21%
33.49%
North America % PS
31.79%
66.51%
Western Europe % CS
63.82%
44.78%
Western Europe % PS
36.18%
55.22%
Source: Heavy Reading IP Network Transformation Market Tracker


And while other markets such as Latin America, Eastern Europe and Asia/Pacific will not cross this threshold by 2015, the good news for vendors active in these markets is that a number of countries, such as China and Japan, represent strong business opportunities.

Admittedly, the business case for TDM replacement will still have to compete with other key technology thrusts, which is not a trivial exercise. Based on recent information highlighted in the tracker, however, measurable success is being made in this critical and sometimes overlooked step in the IP evolution process.

— Jim Hodges, Senior Analyst, Heavy Reading


---
For more information, or a FREE PREVIEW of the IP Network Transformation Market Tracker, please contact:




---