FCC Looks at Bill-Shock

Comment (6)
2:10 PM -- Shortness of breath; dizziness; temporary blindness; uncontrollable anger; stomach pains: These are all symptoms of bill shock, a disease that one in six Americans is suffering from, according to the
Federal Communications Commission (FCC)
.
In its ongoing battle to increase competition, the FCC released a survey today that shows the damage that high cellphone bills and early termination fees (ETFs) can do to consumers. (See
US Wireless Competition: Does It Exist?
and
Carriers Respond to FCC's Competition Concerns
.)
According to the survey, 80 percent of adult Americans pay their own cellphone bill. Of these, 58 percent are happy with the coverage, but 17 percent -- or 30 million -- have received higher-than-anticipated bills. Those bills ranged from a jump of $25 to $75 for one-fourth of the respondents to $100 or more for 23 percent of the survey takers.
With these findings, the FCC isn't necessarily looking to lower phone bills, but it is mulling bill-shock regulations that mandate carriers warn you when the bill starts to encroach into shocking territory.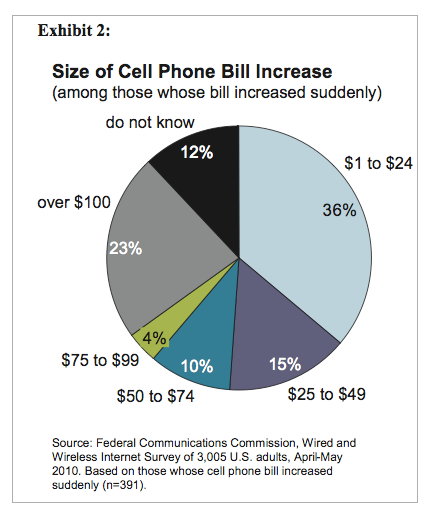 The FCC might, however, order carriers to lower their ETFs, which stop consumers from jumping to a competing carrier when it introduces a new exclusive handset (another issue the FCC is probing). Both
Verizon Wireless
and, more recently,
AT&T Inc.
(NYSE: T) upped their ETFs on smartphones -- AT&T from $175 to $325 and Verizon to $350. (See
Will Verizon Have a Q3 iPhone Launch?
)
Of the FCC's respondents, 43 percent with contracts said ETFs were a major reason they would stay with their current service, but nearly half didn't know just how high their ETF obligations were.
CTIA
president Steve Largent weighed in on the survey as he has on all of the FCC's reports, saying that he is "very troubled with the current direction the FCC is taking with respect to the wireless industry." He believes the industry provides simple and easy-to-understand plans for every type of American consumer. I would argue that a victim of bill shock disagrees, but I have to give Largent credit for his last, very valid point to the FCC:
"If the FCC is interested in controlling 'shock' on consumer bills, they should address the most egregious part of consumers' bills, which is the almost 16 percent rate of taxes and fees imposed by federal, state and local governments on wireless consumers," Largent wrote in the CTIA
blog
.
— Sarah Reedy, Senior Reporter,
Light Reading Mobile