Poll: SDN, NFV Make Analytics Critical to OSS

Comment (1)
The move to SDN and NFV will only increase the need for advanced data analytics, especially in the OSS layer for service assurance, service management and related functions, according to the latest Light Reading poll.
About half of those who took our recent poll asking how SDN and NFV are affecting the need for data analytics indicated that analytics use will become critical in the OSS layer to support service-related functions. Another 22% thought that there would be a lot more measurements that need taking in a virtualized environment, and 12% said operators could store a lot more data when hardware costs go down. Only 10% thought it was too early to say, but that current analytics platforms will perform the same in virtual environments. (See Analytics in a World of SDN, NFV & IoT.)
Here's a look at how the Light Reading community members responded, excluding the 8% that voted "other" for how SDN and NFV are affecting data analytics.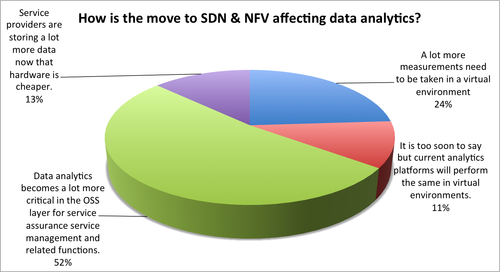 At Light Reading's recent Telecom Analytics World show in Atlanta, Tom Anderson, principal engineer and co-convener of the Alliance for Telecommunications Industry Solutions (ATIS) NFV Forum, explained the heightened need to marry analytics to SDN and NFV well. The technologies both add a lot more "knobs" to the network, he said, meaning a lot more things operators can tune. They can manage congestion better, make elements bigger or smaller, respond to reliability tasks and failures and route traffic more easily, among other functions. As such, it's necessary to have good network data that can be synthesized and used to understand and automate all these network functions. (See this video on The New IP for more of Anderson's thoughts on SDN, NFV and analytics.)
"All these extra knobs are cool, but if you have to have manual intervention to tune these things, it's not going to happen," Anderson said. "It needs to be automated. Analytics can help -- where do you instantiate that function with NFV? You can instantiate probes right within the network function. There's a whole new set of opportunity for data and automation."
---
Need to know more about big data analytics and its impact on communications service providers? Then check out our dedicated analytics channel here on Light Reading.
---
As another example, Anderson said an operator can use analytics to discover when they have congestion and then correlate it to app data and subscriber data to gain better insight into why it's happening and what needs to be done. There will be a lot more data in a virtualized network, he said, and today's platforms might not be up for the challenge.
"To get really insightful data requires a better framework for the network to expose data to an analytics system," Anderson said. He added that a common data framework needs common data formats with correlation capabilities built in and the ability to share the data tied to subscriber management and subscriber attributes.
— Sarah Reedy, Senior Editor, Light Reading