4:30 PM -- There's a flickering bright spot in a report typically headlined by the likes of Apple Inc. (Nasdaq: AAPL) and BlackBerry , and that's Sony Ericsson Mobile Communications . (See RIM, Apple Increase Market Share in Q1.)

Okay, well, it slipped from the top-five handset vendors in the second quarter, but it did experience a sharp uptick in smartphone sales, according to IHS iSuppli 's latest vendor rankings.

The company's growth spurt came thanks to its shift away from higher-volume feature phones toward higher-profit, mostly Android-based smartphones, iSuppli surmises. The handset maker shipped 15.4 percent more smartphones than in the previous quarter.

If you want to be a pessimist then you might note that Sony Ericsson also fell from fourth place in the first quarter to sixth place in the second quarter, marking the first time in three years it didn't rank in the top five, as RIM and ZTE Corp. (Shenzhen: 000063; Hong Kong: 0763) sneaked by it.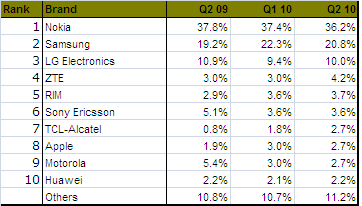 But, I'm feeling optimistic today, and a little sick of Apple stealing the show, so I'll point out that Sony Ericsson was the fourth fastest-growing smartphone brand in the second quarter.

Its third-quarter results were just as mixed too with revenues, device volume sales, and the ASP slipping in an otherwise profitable quarter. (See Sony Ericsson's Mixed Bag.)

Looks like Sony Ericsson made the right choice in going high end, but with competition increasing, a sixth-place finish will never be this notable again.

— Sarah Reedy, Senior Reporter, Light Reading Mobile