Smartphone Watch: Verizon Takes On the World
Verizon Wireless
won't be taking on the world until 2011, but when it does, it will come equipped with a
High Tech Computer Corp. (HTC)
(Taiwan: 2498)-built Android phone, not built for
Long Term Evolution (LTE)
, but for the world's 3G networks.
The Verizon-branded phone will also include a
Vodafone Group plc
(NYSE: VOD) SIM card so that it can run on CDMA and GSM networks, according to the blog
AndroidGuys.com
, which obtained pictures of the prototype (below).
The phone, similar to the HTC Evo, but sporting a sliding qwerty keyboard, is likely to run a 1.2GHz
Qualcomm Inc.
(Nasdaq: QCOM) processor and Android 2.2 at launch, the blog says.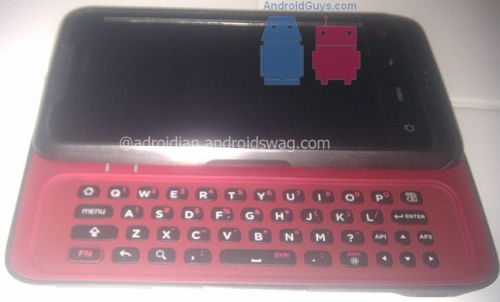 In other mobile device rumors and reports today:
HTC is betting heavily on Android, but it has its sights set on Microsoft Corp. (Nasdaq: MSFT) too, based on a leaked image of Shubert, one of the first HTC Windows Phone 7 handsets. 247WindowsPhone.com posted a video of the smartphone, which will be the first to feature Xenon Flash.

According to reports , the elusive Schubert will launch in the fourth quarter of the year across Europe and potentially through AT&T Inc. (NYSE: T) in the US. Schubert joins fellow composer-named Windows Phone 7 devices, the HTC Mondrian and HTC Mozart.


That's not all we're hearing about the Taiwanese handset maker today. Reportedly, the HTC Desire HD, its GSM version of the Evo, will be making its way to carriers soon. The phone boasts an 8-megapixel camera, a 1GHz Qualcomm processor, 720p HD video recording, and Android 2.2.


BlackBerry 's new Torch phone may have been the first to be updated to the BlackBerry 6.0 operating system, but more handsets will be making the upgrade. Today, RIM confirmed that the BlackBerry Curve 3G 9300, a quad-band GSM, WiFi, and GPS handset, will be sold by T-Mobile US Inc. "in the coming weeks." The phone is already offered by Rogers Wireless Communications Inc. (NYSE: RCN; Toronto: RCM) in Canada. It will ship with the BlackBerry 5 OS, but will be upgradable as soon as 6.0 is released "in the coming months." (See RIM Sings Torch Song.)


Gizmodo discovered a newspaper advertisement showing off Verizon's still-unannounced Droid 2 that is "coming soon." Worst-kept secret ever?


Finally, no rumor roundup would be complete without paying homage to the latest Verizon iPhone rumor. TechCrunch promises Verizon will have a CDMA version of the iPhone in January, citing semiconductor component purchases. "Knowledgeable sources" indicate that Apple submitted orders for millions of units of Qualcomm CDMA chipsets, presumably for said Verizon iPhone.

Bear in mind, however, that TechCrunch was also the site that promised us Verizon was racing to deploy LTE by early 2010 in order to support an Apple Inc. (Nasdaq: AAPL) tablet. Even knowledgeable sources sometimes get it wrong.

— Sarah Reedy, Senior Reporter, Light Reading Mobile


UPCOMING LIVE EVENTS
June 6-8, 2023, Digital Symposium
June 21, 2023, Digital Symposium
December 6-7, 2023, New York City
All Upcoming Live Events
PARTNER PERSPECTIVES
- content from our sponsors