Smart Cities See Fog Rolling In
AUSTIN -- Fog computing isn't just another telecom buzz phrase. It's definitely one of those, but it's also an approach to networking that has significant implications for the development of smart cities -- a fact that's abundantly clear here at the Smart Cities Connect Conference & Expo in Austin, Texas.
Definitions of fog computing vary, but Katalin Walcott, IOTG principal engineer at Intel Corp. (Nasdaq: INTC), and chair of Manageability/Orchestration at the OpenFog Consortium , has a succinct way of distinguishing it from the broader notion of edge computing.
In smart cities, Walcott explains, an edge computing system uses gateways at the edge of a network to collect data from sensors and send it up to a cloud platform. Fog computing, on the other hand, is more about keeping local data local. While it doesn't preclude the use of remote cloud systems, the advantage of fog computing comes from being able to do computation on site without any requirement to connect to faraway data centers, a.k.a. the cloud.
"It allows us to interconnect the edge systems or the gateways or the edge computing components in an elastic, dynamic way so that we can actually do that computation at the edge as close to the data as possible," says Walcott.
John Tolva, a co-founder of CityFi, and former CTO of the city of Chicago, describes it even more bluntly.
"One of the interesting things about the Internet of Things," he says, "is that it really isn't just sensors hanging off of light poles. It's moving the compute resource, the computation to the edge."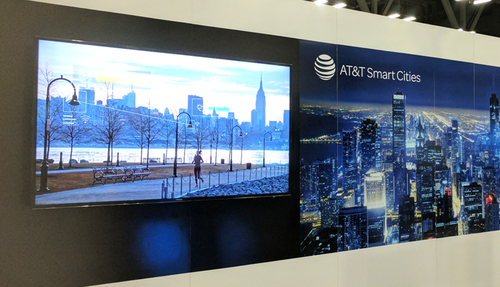 A recent report by Heavy Reading, the market-research arm of Light Reading, suggests that fog computing is already drawing a great deal of industry attention. However, it's also unlikely to be an immediate-term revenue generator for telecom companies. Instead, it will be up to others to develop use cases in the near future that can help drive the technology's growth, perhaps in areas of industrial IoT and smart city development. (See The Future Is Foggy – HR Report.)
For smart cities, there are huge benefits to fog computing. For starters, it offers greater control over data privacy and security. A localized smart kiosk system, for example, might collect images of passersby for the purpose of monitoring pedestrian traffic. However, if the objective is only to get a count of individuals in the region, the system could process the number of people recorded locally and only transmit that data to the cloud without ever sharing the actual images captured, thereby preserving privacy.
Reducing connectivity back to a larger network also reduces system vulnerability. As Tolva points out, cities can eliminate "one very significant attack vector" by maintaining a local communications loop. With a local-only network, there are far fewer points of access to protect.
Beyond security, there's a latency advantage to fog computing. Processing data at the edge of a network means smart city systems can analyze data and take action quickly. Imagine one sensor picks up the sound of a gunshot. If the system can communicate that information quickly, there's an advantage in being able to turn up street lights in the vicinity. However, response time is critical. If the lights don't turn up immediately, there's a good chance the action will have moved elsewhere.
There's also the issue of bandwidth. What if your underlying network infrastructure isn't high-capacity? In the city of Chicago, the local government is partnering with the University of Chicago and Argonne National Laboratory on a project called Array of Things. The goal is to collect massive environmental data at light poles in order to monitor and address issues like pollution, precipitation, flooding and more. However, even as the Array of Things technology is being implemented, Chicago has to rely on a very limited 2.5G network connected to these streetlights to communicate the environmental data it collects. Fortunately because the bulk of the data processing takes place literally at the pole, the low-performance wireless network doesn't pose much of a constraint.
"Fog, edge computing, call it what you like, you're making do with the communication network you have," says former Chicago CTO Tolva.
---
For more broadband market coverage and insights, check out our dedicated Gigabit/Broadband content channel here on Light Reading.
---
These are the early benefits of fog computing in smart cities. But in the long run, there's the potential to get much more sophisticated.
Peggy Irelan, Intel Fellow, CTO and director of Solutions Innovation Office, imagines a time when cities operate transaction-based systems across their smart city networks, allowing both citizens and local governments to assign value to their data and offer it in exchange to other entities for services. She compares it to a "Nasdaq for data," i.e. a data exchange platform. Perhaps if you were willing to share the data associated with the use of a city-owned bike -- miles traveled, energy exerted, hills climbed -- you could earn a discount for that bike rental.
Of course, exchanging personal data for goods and services in a smart city has all kinds of public interest and regulatory implications, but at least in theory, the platform to enable an automated data exchange system, similar to a stock exchange or an ad exchange, would be feasible with fog computing. Irelan cautions that this type of far-ranging application is why cities need to invest in designing their network strategies now. If cities aren't actively involved, the private sector will write the rules of data networking and information exchange in their favor.
And speaking of the private sector, what exactly is the role for telecom service providers in all of this? There are certainly huge opportunities, which is why AT&T Inc. (NYSE: T) is a major sponsor of the Smart Cities Connect event, and why representatives from Comcast Corp. (Nasdaq: CMCSA, CMCSK), Verizon Communications Inc. (NYSE: VZ) and other network operator companies are trolling the grounds. However, there are also threats, not least of all because the greenfield nature of smart cities, and even technologies like fog computing, make it easier for new companies to enter the networking market. Service providers will have to stay on their toes, and they'll have to get a lot better at communicating with a lot more of the municipalities that are examining these technologies today.
— Mari Silbey, Senior Editor, Cable/Video, Light Reading
PARTNER PERSPECTIVES
- content from our sponsors