Ducting Disruption Fuels Fiber for Smart Cities

Comment (3)
Cities, towns and telcos all want the same thing -- more fiber. But fiber doesn't just appear. It has to be funded, mapped and weighed against the construction disruption of real-world deployment.
Now, enter Clearfield Inc. (Nasdaq: CLFD), the fiber management company that thinks it's found an easier way.
Clearfield wants to give communities and telecom companies more control over how they time their broadband investments, and more flexibility to adapt deployment plans based on changing market and physical conditions.
The model works like this. Clearfield sells microduct infrastructure that a community or carrier can deploy when other construction is already underway (for roads, bridges, etc.), and that can be filled at a later date with pushable fiber. For municipalities, or even building owners, this means they can avoid taking on ownership of actual telecom infrastructure and create financial incentives for outside operators to extend fiber deeper into the community. For carriers, ductworks and pushable fiber mean savings on construction costs and the ability to move faster toward generating revenue on network services.
Ducting and pushable fiber aren't unique to Clearfield. CommScope Inc. , for example, is big in the microduct space, and PPC also markets its own brand of pushable fiber. But the combination of technologies is still relatively new, and Clearfield is trumpeting the approach as critical for enabling the volume of fiber deployments needed to support growing broadband demand.
"We think the model for either the building owner or for the community in general is to enable the lowering of construction costs to allow the service provider to do his work," says Clearfield CEO Cheri Beranek. "And so if you can lower those construction costs [with] a dig-once kind of mentality, you've really provided a means for the community to buy service when they choose to, and [still enable] a free market economy."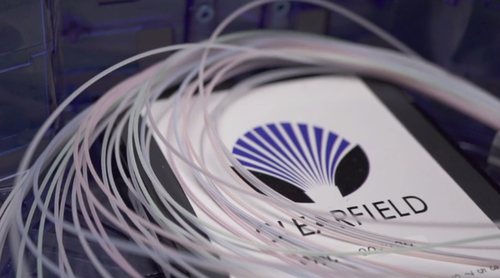 Among the possibilities with the model, Beranek sees a major opportunity for communities to take advantage of AT&T Inc. (NYSE: T)'s current fiber expansion and to lay the groundwork for their own last-mile connections. AT&T has to pass at least 12.5 million locations with fiber by the end of 2019 under the regulatory terms of its deal to acquire DirecTV. But it doesn't have to directly connect every location it passes, and may choose not to do so depending on the specific economic circumstances. (See AT&T Preps for Big Fiber Build .)
However, if a community deploys ductwork in advance, that mitigates the costs for AT&T. It theoretically makes it more likely that AT&T will go the extra mile (pun intended) to drive fiber all the way to the residential or business end user.
For communities that don't want to manage their own broadband infrastructure, explains Beranek, it's still possible to "create a smart city initiative by creating a pathway that [the community] would own or enable." Officials could then open up that pathway to carriers for fiber deployment.
"The right way to do that is whenever you are opening up a trench, don't put in fiber, because a service provider wants to own their own fiber," says Beranek. "Put in multiple pathways for that service provider to own at a later date."
Ducts in detail
The Clearfield approach to fiber deployments is similar to the way the industry used to install ducts for copper years ago. The one big difference is the size. In the old days, ducts were two to three inches in diameter. Clearfield microducts, in contrast, have an outside diameter of just 10 millimeters, or less than half an inch.
"You can actually push a fiber that's been pre-connectorized in our factories to the desired endpoint so that you can turn up service with a single truck roll," says Beranek. "And by doing that, you've got minimal labor. You're going to be able to turn up that customer rapidly."
That pushable fiber is the other key innovation that Clearfield offers alongside its microducts. Despite its name, Clearfield's fiber cabling can be pushed or pulled through existing microducts to connector devices installed at the network demarcation point. Clearfield sells a reel for unspooling the fiber, the necessary connector units and several options for the number of fiber strands included in a cable, depending on customer preference.
As a caveat, Beranek does acknowledge that carriers aren't likely to want to share space in a single duct, so Clearfield recommends that communities deploy multiple ducts to attract multiple carriers. But she adds that the company's research suggests a service provider typically only needs a 30% take rate in a given region to earn a return on investment, which means there's room for profitable competition with multiple pathways in place.
Next page: Building a track record
PARTNER PERSPECTIVES
- content from our sponsors
GUEST PERSPECTIVES
- curated contributions