Comcast first signaled its interest in smart cities when it announced trial network deployments last October based on the Low Power Wide Area Network (LPWAN) technology known as LoRa. The company has been relatively quiet on the topic since, but new details are starting to emerge both from Comcast partners and Comcast itself as the cable company plows ahead with its new subsidiary IoT business known as machineQ.
machineQ's early activities make two things clear. One, IoT is a priority for Comcast Corp. (Nasdaq: CMCSA, CMCSK), even if few know it yet. Two, everything Comcast is developing in the IoT and smart city sectors flows right back to the company's existing telecom infrastructure, and to technology ecosystems Comcast has already helped to create.
On a June day in Philadelphia...
The scene is a dark auditorium tucked away in a corner of the otherwise rowdy Franklin Institute in Philadelphia where hundreds of students are bouncing around the science center in camp programs or as part of end-of-year school field trips. Members of the LoRa Alliance are on site for the group's member meeting, and Comcast is sponsoring the event along with a co-located Smart City Summit that includes presentations by the city's mayor and CIO, IoT application companies, and of course Comcast's own machineQ.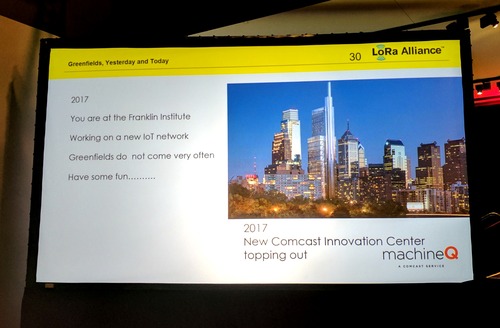 machineQ is new to the Comcast family, a product of internal business development efforts focused on the nascent IoT sector. The subsidiary seemed to appear out of nowhere last fall, but now has three trial LoRa network deployments in Philadelphia, San Francisco and Chicago, as well as champions who are ready to talk about the organization's IoT mission.
"This is really an exciting greenfield. We at Comcast like to think of having four fundamental lines of business: voice, video, data, home security. We really hope to make IoT that fifth major line of business," says Bill Ver Steeg, chief architect of machineQ.
machineQ founder and general manager Alex Khorram has done his homework. Before the business officially existed, Khorram made trips around the world to talk with other telecom providers about their own LoRa deployments, including one sojourn to South Korea where he met with executives at SK Telecom (Nasdaq: SKM), which has already rolled out a LoRa network nationally.
Back in Philadelphia, Ver Steeg explains why Comcast believes it will succeed in its own LoRa efforts. The company, he says, has a major cost advantage over competitors because of the local infrastructure and right-of-way access it already owns.
Ver Steeg notes there are two kinds of sensors that IoT applications can use: high-power and low-power ones. High-power sensors are necessary when a transmitter has to broadcast a signal over a relatively long distance to a LoRa gateway, but low-power sensors, which can be significantly cheaper, are sufficient when a gateway is nearby.
And across its customer footprint, Comcast can make sure there's always a gateway nearby.
Next page: What about those gateways?