One of the many debates surrounding broadband deployments in the US is how much municipalities should be allowed to charge telecom companies for access to public rights-of-way for use in installing communications equipment. The issue comes up frequently because the telecom industry expects to deploy a lot more gear in the coming years -- enough to support greater wireline broadband access, but also enough to enable future 5G wireless services.
So what's a reasonable amount? How much money is acceptable as a trade-off for better broadband, and how much is an overreach?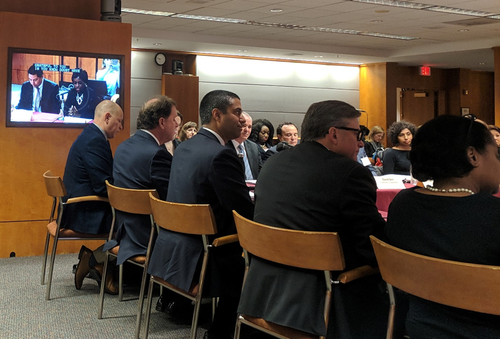 The debate was summed up in stark terms Thursday at the latest meeting of the Broadband Deployment Advisory Committee (BDAC) at the Federal Communications Commission (FCC) . Municipalities by and large want a market-based approach to determining fee amounts, while the telecom industry is looking for a cost-based approach that allows local governments to recoup their costs in the process, but not add money to government coffers. Many of the BDAC members are determined to find a middle ground between the two positions, but many individuals, both in and around the committee, have also expressed strong opinions on the topic.
For example, FCC Commissioner Michael O'Rielly referred in opening comments at the BDAC meeting to fee practices in the city of San Jose, suggesting "that the mayor's team is seeking to extract high rents and fees for merely trying to attach small cells to utility poles." Notably, the mayor of San Jose, Sam Liccardo, is a member of the BDAC, so the barb was especially pointed given the audience in the room.
On the other hand, city officials have made clear time and time again that there are reasons for imposing some fees on rights-of-way (ROW) access, not just to cover costs, but also to fund digital inclusion initiatives and generally to ensure equitable broadband access. (See On Broadband, FCC Talks Carrots, Not Sticks.)
In reinforcing that very point, Mayor Liccardo suggested later in the day that if the committee wants to recommend a cost-based approach, that "the cost mandate, if that's what the industry is successful in getting, should be accompanied by a mandate that the industry serve everyone because that's what we do with public utilities."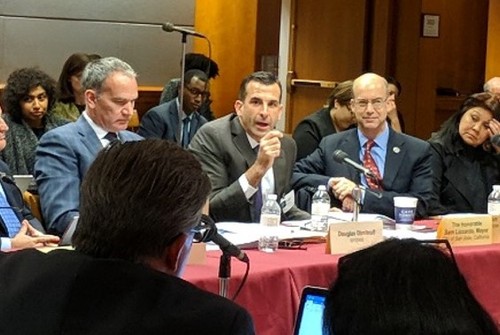 The fee debate could effectively be papered over in the BDAC because committee membership is weighted toward industry representatives rather than local government officials, and ultimately the group will decide its final recommendations by vote. However, several members say they want to find an effective compromise because if municipality or state government views are discounted, the fee issue will continue to rear its head in policy discussions for years to come.
"We are not ultimately deciding how to resolve every issue. [Our role] is to inform people who will resolve issues in the most intelligent way," said Christopher Yoo, communications law expert and professor at the University of Pennsylvania. And he added, "Someone told me [that] in a negotiation, you know when you have a problem because it keeps coming up. You can win an issue early in a negotiation, but if it's not really stably resolved, it will come back again."
Andy Huckaba, City Council member from Lenexa, Kansas, also expressed concern that the fee issue must be addressed in every working group the BDAC has established. These include working groups on: streamlining federal siting, ensuring competitive access to broadband infrastructure, removing state and local regulatory barriers and creating model codes for state and local governments.
"Frankly, from my perspective, we're stuck," commented Huckaba on the issue of fees. And he said, "I would encourage this group as a whole, and I would encourage the FCC, to do some hard work on this."
Next: Finding answers in data