When AT&T started working with smart cities more than two years ago, the movement was still a mix of patchy public WiFi deployments and the occasional connected streetlight or trash bin. But since that time, the nation's collective vision of a smart city has started to solidify, and AT&T has settled on a few successful strategies for getting involved in deployments early and then spreading outward as opportunity allows.
You see, a funny thing happened on the way to the smart city. AT&T Inc. (NYSE: T) and others began to recognize the advantage of being first to arrive.
"About two and a half years ago we stood the smart cities business up for AT&T, and one of the first things I did was approach Mayor [Kasim] Reed and Samir Saini, the CIO from the city of Atlanta, and presented to them an opportunity to partner with us to create what we were calling a spotlight city," said AT&T General Manager Michael Zeto recently in a panel discussion on smart city ecosystems.
The goal in those early days, Zeto continued, was to help cities break down procurement silos and look at solution sets rather than point solutions. After that, AT&T would work to implement smart city technologies in a small area, "take the key learnings, go and drive awareness with the city council and with citizens and the ecosystem there, and then be able to eventually develop a funding model."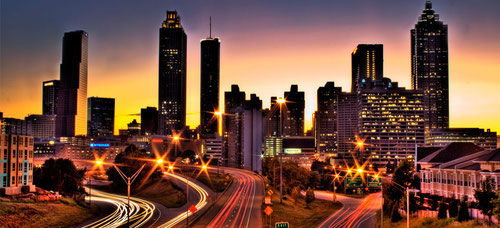 No city is the same as another, so it doesn't pay for a company to build a one-size-fits-all approach for smart city deployment. However, it does pay to get to the discussion table early and become the lead partner and integrator as a city's plan for a connected future begins to materialize.
"I think that [cities] are looking -- because it is a complex situation -- they're wanting people to work with where they can pull together the different pieces and really be able to stich it together and make it all work," explained AT&T President of IoT Solutions Chris Penrose in a later interview with Light Reading. (See more of that interview here: How Connected Cars Are Helping to Drive Smart City Agendas.)
And there is evidence that Penrose is right. Increasingly different companies are adopting select communities to kick off local, long-term smart city strategies. AT&T, for example, has teamed up with Atlanta, Cisco Systems Inc. (Nasdaq: CSCO) has adopted Las Vegas and Verizon Communications Inc. (NYSE: VZ) has a long-term investment deal in place with Boston. (See Verizon Takes 'One Fiber' to More Cities and Sin City Aims to Be the Next Tech Hub.)
In each case, the company has formed a relationship with its respective city with the potential for multiple projects extending from initial pilot deployments. That doesn't mean that other vendors and network operators are out of the picture, but it does give first-mover advantage to the solution providers who are already at the table helping to design the next phase of technology rollouts.
---
Learn more about the role of communications networks in smart cities at Light Reading's new breakfast event – Smart Cities, Dumb Pipes. Featuring an all-star line-up of experts, the event will be hosted at Smart Cities Connect 2018 in Kansas City on March 28. Admission is free for all conference attendees!
---
"We did act almost as a big SI [system integrator] if you will," said Zeto about AT&T's work in Atlanta, adding that the operator learned over time when it needed to bring in new partners on any given project.
And he continued, "There's a large opportunity there for companies like AT&T to partner with the cities and develop strategic relationships and bring in the other ecosystem players to really bring value to the citizens."
Penrose later clarified that AT&T "can play the role of prime, but we're also totally fine working with others," depending on what a city's needs are.
What seems to be happening, however, is that a universe of smart city solution providers is being whittled down to a smaller subset of companies that can prove their ability to support smart city projects on a large scale.
"I do think that a lot of it is still being tested, trialed, and you've got places that have picked some groups to run with early," said Penrose, "but ultimately I think everybody's going to get to a point where there's a handful of solutions and there's a handful of people that they think are doing this best in class, and we're hoping to be one of those folks."
Next page: Streetside with AT&T