Ever been to Poland? I hadn't until this week, when The Future of Carrier Ethernet: Eastern Europe 2007 event was held in the Intercontinental Hotel in Warsaw. (See Ethernet's Winning Ways and Ethernet Hits Warsaw.)

More than 130 carrier and enterprise executives from Central and Eastern Europe turned up to hear from Heavy Reading analyst Stan Hubbard and representatives from Alcatel-Lucent (NYSE: ALU), Extreme Networks Inc. (Nasdaq: EXTR), InfoVista SA , JDSU (Nasdaq: JDSU; Toronto: JDU), Transmode Systems AB , Iometrix Inc. , and the MEF about the latest developments in carrier Ethernet technology. (See Vendors Eye Euro Ethernet Hotpot, Czech Out Ethernet's New Euro Hotspots, and Eastern Promise.)

As so often happens at Ethernet events these days, Provider Backbone Transport (PBT) was a hot topic. (See PBT Cost Claims Questioned and BT Counters PBT Claims.)

We had our camera at the event, in the bar, and out on the street to give you a flavor of a one-day trip to the Polish capital.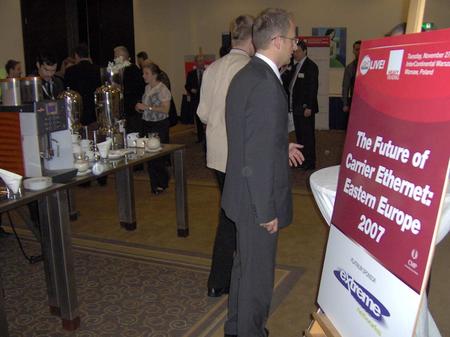 — Ray Le Maistre, International News Editor, Light Reading