NEW DELHI -- Convergence India -- This year's Convergence India event, again held at the city's Pragati Maidan showgrounds, was a strangely subdued event, given how dynamic the Indian market is right now. (See India's Hot for Ethernet, Indian Mobile Carriers Add 8.4M Subs, and A Guide to India's Telecom Operators.)

But the same themes stood out: WiMax, mobile evolution, broadband, and optical were all prominent technologies on the show floor, as they were last year.

Carrier Ethernet, though, was certainly "out there" more than in 2007, with ECI Telecom Ltd. showing off its new platform, Tejas Networks India Ltd. talking up its developments, and RAD Data Communications Ltd. showing off its multiservice platforms. (See ECI Intros Carrier Ethernet Portfolio, India's Tejas Joins PBT Club, RAD Tackles HSDPA Transport, and RAD Pushes EtherAccess.)

One thing's for sure, though -- last year's event had a bit more razzmatazz about it. (See Convergence India: In Pictures.)

Despite the lack of standout photo opportunities on the show floor (other than the mannequins at Time Broadband's booth), we still whipped out our camera and took a few snaps.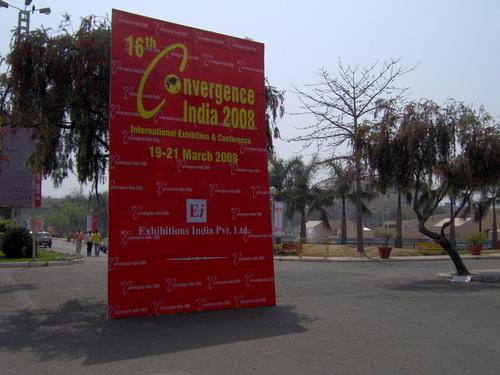 — Ray Le Maistre, International News Editor, Light Reading