Equinix Index Tracks Interconnection Boom

Comment (0)
The capacity for private data exchange is growing twice as fast as the public Internet, according to the first-ever Global Interconnection Index, unveiled today by Equinix.
The new index measures the growth in capacity for private data exchange, much like Cisco's Visual Networking Index (VNI) measures fixed and mobile Internet traffic, says Tony Bishop, Equinix's vice president of global vertical strategy and marketing. The goal in creating such an index was to recognize the significant role interconnection is playing in how digital business gets done, he tells Light Reading. (See Equinix Unveils Interconnection Index.)
Based on its data, the team behind the index predict that interconnection bandwidth will grow at a 45% compound annual growth rate and reach 5,000 Tbit/s per second by 2020, exceeding global IP traffic in growth rate (24%) and volume (855 Tbit/s), according to Equinix.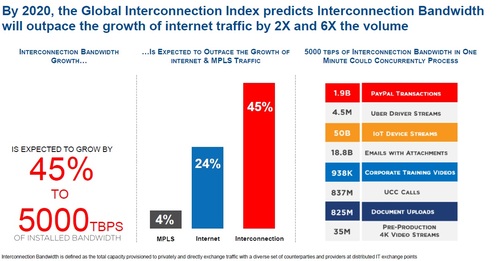 As a company that built its business on enabling carriers to connect with each other, and now also connect with major cloud providers and enterprises, Equinix obviously has a huge stake in the market tracked by the index. Bishop says the company wanted to provide some context -- including offering data that can inform the boardroom -- as to the role that interconnection plays in enabling digital transformation.
"Digital is transforming all industries and really becoming that building block or growth engine of the global economy," he comments. "What scaled the digital economy components of the global economy was interconnection. Major macro trends -- including digital trade, urbanization, cybersecurity -- are all driving more critical relevance for interconnection. And no one has measured this or analyzed it. We thought, if you net this out, it is a very powerful story."
Equinix is drawing attention to this with the index because, Bishop says, there is a strong argument to be made that interconnection actually fueled the Internet's growth, yet it is happening behind the scenes and going unrecognized.
"Interconnection is what actually enabled the Internet to scale," he says. "Carriers came together privately to peer their traffic, and exchange traffic, so that traffic could then get to its destination."
---
Equinix is one of many companies participating in Light Reading's NFV & Carrier SDN event in Denver. There's still time to register for this exclusive opportunity to learn from and network with industry experts – communications service providers get in free!
---
Things that came after -- the creation of web platforms, the caching of web and video content and the development of content distribution nodes -- all fuelled Internet traffic exchange and fed the private exchange process, he notes. Electronic trading and other business connections continue the trend of exchanging data privately to control risk and achieve business needs. And now the cloud has scaled private data exchange to new heights, Bishop notes.
All of that led to Equinix's determination to create its own index, by first creating a market baseline that looked at thousands of carrier-neutral colocation data center providers, and the companies they served regionally, and in metros. Bishop explains that the data collected was then combined with various macroeconomic trends, market demographics and more to create a means of predicting future growth that factors in further digital business transformation.
That initial process took nine months, Bishop says, but should be managed more quickly next time around: Equinix is planning to make an annual ritual of the index, which looks at interconnection growth by region, by industry segment and by enterprise use cases.
It finds that urbanization and cyber security concerns are among the factors that are driving the growth in private data exchange that may spill onto the Internet at access and egress points but which, otherwise, is private, Bishop says.
The US is the most mature region, with the largest amount of interconnection bandwidth, but capacity in other regions is growing rapidly.

— Carol Wilson, Editor-at-Large, Light Reading
PARTNER PERSPECTIVES
- content from our sponsors
GUEST PERSPECTIVES
- curated contributions