Virtual Reality Gets Real Gimmicky
Looking to move the sales needle during the holiday buying season, Facebook-owned Oculus has brought a trio of video streaming apps to its relatively new standalone virtual reality headset, the Oculus Go.
Sling TV gets honors as the first virtual MVPD to add the Oculus Go to its range of supported platforms. Joining that video mix today are ESPN (with handful of its traditional linear channels as well as ESPN+, the standalone subscription streaming service that The Worldwide Leader launched in April); and Fox, with Fox Now, the authenticated TV Everywhere app (meaning users need their pay-TV credentials) that delivers live streams of Fox and FS1 as well as on-demand access to shows such as 9-1-1, The Simpsons and Hell's Kitchen.
The fun part of these apps are that they provide the user with a way to watch this content on a virtual big screen TV (Oculus says it's the equivalent to a 180-inch screen that renders at a resolution of 2,560 x 1,140 pixels) while they're on the go, rather than having to view live feeds or individual shows on smaller screens, like a smartphone, tablet or laptop.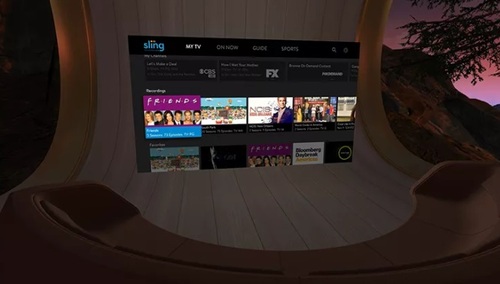 Another interesting aspect is that the Oculus Go, a product launched in May, is a higher-end portable, standalone VR headset that doesn't need to be tethered to a high-octane PC as the Oculus Rift does. It also delivers a higher-quality image than one would get from VR headsets that must be paired to compatible smartphones, such as the Samsung Gear VR (which uses Oculus software) or Google's Daydream View headset.
Integration with Oculus Go gives Sling TV , ESPN and Fox a new outlet to explore, though they're not the first video services to kick the tires on VR. Hulu and Netflix, for example, have already developed apps for several other VR platforms. Among them, Hulu has one for PlayStation VR, Gear VR, Oculus Rift, and Google Daydream. YouTube launched a VR app for the Oculus Go last month, but has yet to extend support for its OTT-TV service, YouTube TV.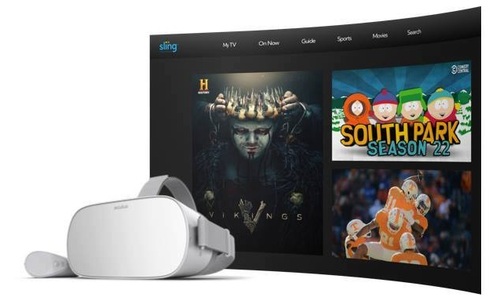 Sling TV, meanwhile, is using this early-mover advantage for the Oculus Go as an acquisition tool -- users who buy and activate one of those standalone VR devices by Jan. 15, 2019, will get a code for $80 toward Sling TV service (so long as the code is redeemed by Jan. 31, 2019).
Consumer adoption of VR headsets was disappointing early on, but it's showing signs of life thanks to the popularity of new standalone products alongside a gradual decrease in pricing and an increase in VR content, according to IDC .
IDC said global shipments for VR headsets reached 1.9 million units in Q3 2018, up 8.2% from the year-ago quarter. However, standalone headsets are up 428.6%, and accounted for 20.6% of the VR headset market.
The Oculus Go and Xiaomi's Mi VR (which is the same headset as the Oculus Go but for the Chinese market) have together tallied shipments of nearly 250,000 headsets worldwide, making them the most popular standalone headsets, IDC said in a recent report.
Meanwhile, tethered VR headsets surpassed 1 million units in Q3, led by the PlayStation VR (463,000 units), Oculus Rift (300,000) and HTC (230,000).
— Jeff Baumgartner, Senior Editor, Light Reading