Augmented reality (AR) on mobile devices will have almost twice the installed base by the end of 2017 than the entire AR/VR headset market by 2021, according to new analysis from Digi-Capital. Fundamentally revising its previous market thesis, analysis and forecasts for this sector, its new report states that the mobile AR market will be driven by Apple ARKit, Google ARCore and Facebook Camera Effects platforms, which could have an installed base of 900 million users by the end of 2018. Digi-Capital believes their launch will change the trajectory of the whole market.
The researcher believes that the emergence of AR as a rival platform diminishes the market potential for virtual reality (VR). The higher cost and weight of headsets will limit "premium" or fully immersive VR, particularly since a simpler and easier version is available via mobile AR.
Also by taking much of the AR functionality into software, mobile AR is increasingly independent of hardware manufacturers and operators. As such, both parties will have little opportunity to generate new revenue from these applications. The study notes that smartphone makers and developers are pivoting towards mobile AR as well.
Digi-Capital believes that even smartglasses like the Microsoft HoloLens could take a decade to become widely adopted, and headset-based immersive experiences will only take off in 2019-2020, when standalone headsets (not tethered to PCs or mobile devices) emerge.
According to the researcher, "The combined impact is a significant upgrade for AR and a material downgrade for VR."
Digi-Capital expects the base of mobile AR users to grow to more than 3 billion by 2021, while other platforms, such as smartglasses, premium VR and mobile VR combined will be in the range of 100 million users in the same timeframe.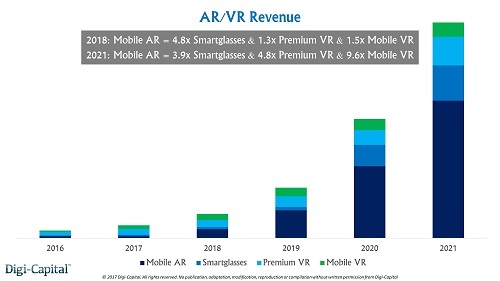 Despite this market dominance, revenue from mobile AR will be about two thirds of total sector revenue. This is due to the lower entry price-point for mobile AR. According to Digi-Capital, "Mobile AR software's economics are similar to the broader mobile market, where vast user bases with relatively low ARPU can deliver high growth and profitability. Smartglasses, premium VR and (to a lesser extent) mobile VR benefit from significantly higher ARPU due to hardware sales, but much smaller installed bases limit their non-hardware revenue potential."
Digi-Capital has a handy graph to show relative shares of revenue per format, but to get the actual numbers, you'll have to pay full price.
The researcher clarifies: "Where mobile AR dominates AR/VR installed base, it could account for only 2/3 of total market revenue by 2021. Mobile AR could deliver 4.8x smartglasses, 1.3x premium VR and 1.5x mobile VR revenue in 2018, growing to 3.9x smartglasses, 4.8x premium VR and 9.6x mobile VR revenue by 2021."
Mobile AR's geographic distribution is largely in line with current smartphone/tablet distribution, and VR's distribution is similar to current games market distribution, according to the report. It concludes that as a result, AR/VR revenue could be dominated by Asia, and specifically China, Japan and South Korea.
— Aditya Kishore, Practice Leader, Video Transformation, Telco Transformation