If there were any doubts that augmented and virtual reality will be big business, a new endorsement by Lucasfilm should put them to rest.
Super-secret startup Magic Leap announced a new partnership with Lucasfilm at the Wired Business Conference this week with a promise to develop new Star Wars-related content that puts users side by side with favorite characters like R2-D2 and C3-PO. A demonstration video shows the two droids walking around an office in lifelike 3D, interacting with each other, and projecting holographic, moving images of stormtroopers and starships.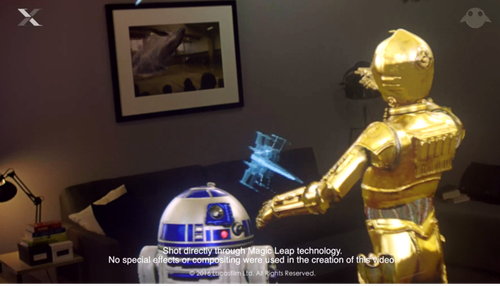 There's no word yet on what products or services the companies might actually make available to consumers, or when. But the partnership suggests a willingness to put significant investment dollars behind bringing new AR/VR content to market.
Speaking of investments, Magic Leap raised an additional $793.5 million in its most recent funding round led by Alibaba in February, which led to a valuation of the company at $4.5 billion. Google was the lead investor in a funding round that brought in $542 million for the VR company back in 2014.
While high-performance AR and VR experiences for consumers at home are still likely several years away, the prospect of these bandwidth-heavy applications is already putting pressure on network operators. As Arris Group Inc. (Nasdaq: ARRS) SVP Duncan Potter pointed out at INTX last month, there's no tolerance for latency in virtual reality, and many VR experiences will end up allowing consumers to import video and other media for use within the VR environment. Both factors will contribute to the amount of data required for VR applications and should have a massive impact on the technology needed for content storage, compression and delivery. (See also Game Consoles Get 4K & VR Ready and INTX Pics: Live From Boston.)
— Mari Silbey, Senior Editor, Cable/Video, Light Reading