RingCentral Makes Major Platform Play
RingCentral, a company that build on its VoIP roots to become a leader in the Unified Communications as a Service (UCaaS) space, is trying to expand its market presence once again. In a series of announcements that started last week and spills over into next, the company is seeking to become a single platform for business communication and collaboration, cleaning up and simplifying the sometimes-messy space now typically inhabited by multiple applications.
By announcing a next-generation meeting solution, new collaboration with Google Hangout, and expanded contact center collaboration, RingCentral Inc. is trying to solve a growing problem for enterprise IT that it is calling "app overload." The company released a survey on Monday of 2,000 knowledge workers that shows they are using an average of four communications applications -- with 20% using six or more -- to handle phone calls, meetings, texts, team messaging, video conferencing and more.
While those tools are designed to improve productivity, their proliferation is having the opposite effect, says Neha Mirchandani, vice president of corporate marketing for RingCentral. "Just toggling between applications to get things done is cutting into productivity," she says in an interview.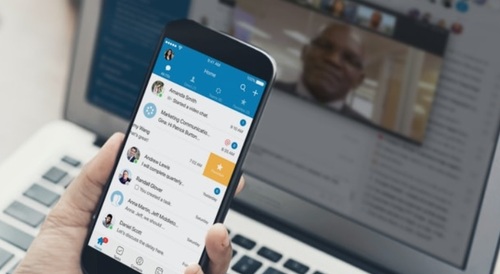 The survey shows a majority (69%) or workers waste up to an hour a day navigating between apps, sometimes losing their train of thought in the process, which adds up to 32 days of lost work per year, she adds. Two-thirds of those surveyed wanted a single communications platform to improve that productivity, although that number falls off considerably among the top executives surveyed, who tend to be more content with existing systems, she admits.
The RingCentral strategy is to provide a UCaaS platform that is open and easily customized for use by enterprises but includes the full range of communications and collaboration tools, says Mirchandani.
New features
At the center of that strategy is RingCentral Connect Platform, which today integrates more than 1,000 partner and customer applications, and last week added Google Hangout chat to that list. The open platform was launched almost five years ago and designed to be easily customized by customers or partners, with a developer portal and sandbox, and multiple software development kits available, says David Lee, vice president of platform products for RingCentral.
"No software-as-a-service company can guarantee they can fulfill 100% of their customers' requirements and that's why open platforms exist and are such a critical element in enterprise software," Lee says in an interview. "If someone wants to see communications data in a specific way that combines data from other sources, like their internal software, or customer CRM, they want to paint a picture of it. There is no way to do that using out of the box software, you have to have API access, which we provide."
---
Need to know more about process automation and zero touch networking? Join us for the Automation Everywhere event in Dallas on April 4. Don't miss this exclusive opportunity to network with and learn from industry experts – employees of communications service providers get in free!
---
Enterprises also need software that can work together, which RingCentral enables with its open platform approach, he adds. "We just passed the 10,000 mark in terms of registered developers -- there have been more than 1,000 custom applications built out of our platform. Most of those are by customers, either on their own or by hiring independent software developers or systems integrators."
By integrating with Google Hangout, RingCentral enables customers who are engaged in team messaging to quickly switch an ongoing conversation into a real-time meeting or call, Lee explains. "Today you would have to go scramble and create a meeting, copy and paste a URL into the team messaging string," he explains. "With our integration, you can just type @ringcentral and meet and that information is injected automatically for you, to save time and make it easier for our joint customers to get into a real-time more interactive engagement."
Those kinds of time-saving integrations -- Lee says there are 1,400 of them today -- make collaboration and communication easier for employees to use, even if individually, they are shaving seconds off a process, he adds. In addition, RingCentral Connect is augmented by the acquisition in 2015 of Glip, a team collaboration software maker.
Next page: New meeting solution
UPCOMING LIVE EVENTS
June 6-8, 2023, Digital Symposium
June 21, 2023, Digital Symposium
December 6-7, 2023, New York City
All Upcoming Live Events
PARTNER PERSPECTIVES
- content from our sponsors