'For Sale' Rumor Lights Fire Under Broadsoft's Stock

Comment (5)
Unified IP communications platform specialist BroadSoft is believed to be working with investment bank Jefferies to explore strategic "options" and could seek a sale to a larger communications networking vendor or a private equity player, according to a Reuters report that cited sources familiar with the company's plans.
The news was taken seriously by investors, as BroadSoft Inc. 's share price jumped sharply in early afternoon trading Wednesday and ended the day at $48.00, up 11.5%, giving the company a market valuation of almost US$1.5 billion.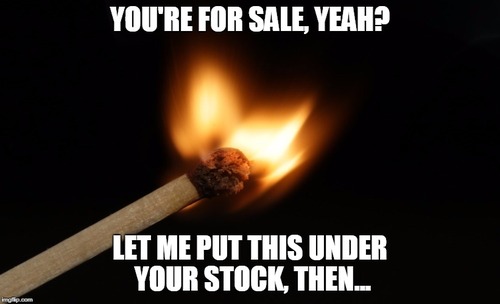 The report is just the latest in a series of M&A developments in the cloud-based unified communications systems and services market.
In July, two other players in the cloud-based unified communications market announced they are joining forces, as Mitel Networks Corp. announced the $530 million acquisition of ShoreTel. (See Mitel, ShoreTel Deal Emphasizes UC in the Cloud.)
That move poses an enhanced competitive threat to BroadSoft in a market that boasts a number of experienced, big-name players such as Cisco Systems, with its Jabber platform, and Microsoft (Skype for Business) and other market specialists such as 8x8 Inc. (Nasdaq: EGHT), RingCentral Inc. and Vonage Holdings Corp. (NYSE: VG).
It's also a market where BroadSoft isn't the only player seeking a buyer: Earlier this year, reports emerged that 8x8 had engaged Morgan Stanley to explore acquisition possibilities, while earlier this month Bloomberg reported that RingCentral had hired advisers following acquisition interest.
"With 8x8 and RingCentral also in play, it could become a beauty contest," noted one experienced unified communications industry executive who contacted Light Reading late Wednesday.
Like 8x8 and RingCentral, BroadSoft has been growing its business but has struggled to turn that growth into operating profits. In the second quarter of this year, the company reported a 9% year-on-year growth in revenues to $88.8 million but an operating loss of $1.5 million, compared with a small operating profit a year earlier. For the first six months of 2017, BroadSoft reported an operating loss of $9.1 million. (See BroadSoft Reports Q2.)
But its numbers are expected to improve and it does have an impressive customer portfolio. While BroadSoft does do some business directly with enterprises, its long-term play has been to sell its technology to communications service providers (CSPs), including many of the world's major fixed line and mobile network operators, which then use it to provide unified communications services (increasingly cloud-based) to their customers. BroadSoft boasts more than 600 CSPs as customers. (See Vodafone Germany Uses BroadSoft for Cloud Unified Communications Service , BroadSoft Offers Telcos a UC Weapon to Fight Microsoft and BroadSoft Becomes Telecom Italia Partner.)
BroadSoft is believed to be close to completing some major "network transformation" projects with Tier 1 operators in the US, Europe and Asia -- including AT&T, Verizon, BT, Deutsche Telekom and Telstra -- that could lead to improving financials in 2018. In addition, the company is viewed as having a superior platform for integrating with mobile network infrastructure and enabling the delivery of unified communications services to mobile devices.
RingCentral, meanwhile, reported a 30% year-over-year growth in revenues to $119.4 million in the second quarter, but reported an operating loss of $7.5 million.
8x8 reported a 15% increase in total revenues to $69.1 million in the three months to the end of June (its fiscal first quarter), and an operating loss of $5.5 million.
The analyst team at William Blair Equity Research certainly believes BroadSoft is an attractive potential acquisition. In a research note issued late Wednesday, it noted that the vendor has "differentiated technology" and "strong exposure to many vertical markets and customers ... It has multiple delivery models as part of a single software stack [and] strong gross margins north of 77% ... [it is] an attractive asset to not only a strategic buyer (searching for growth) but also a private equity contingent (seeing consistent cash flows)."
BroadSoft has not made any official statement on the speculation that it is "in play," but all the signs are that there is likely to be further M&A activity in the unified communications market before the end of the year.
— Ray Le Maistre,

, International Group Editor, Light Reading
PARTNER PERSPECTIVES
- content from our sponsors
GUEST PERSPECTIVES
- curated contributions